Lew Warns Against Reducing Fed Oversight of U.S. Regional Banks
by and
Treasury secretary criticizes calls to boost risk threshold

Relief for midsize lenders could curb key protections, he says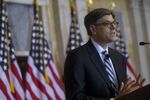 U.S. Treasury Secretary Jacob J. Lew cautioned lawmakers against passing rules that regional banks are pushing for to reduce their costs and possibly increase profitability.
In an interview with Bloomberg Television's Brendan Greeley on Tuesday, Lew said he is concerned about an effort in Congress to reduce the number of banks subject to heightened supervision from the Federal Reserve. Senate Banking Committee Chairman Richard Shelby, an Alabama Republican, has proposed boosting to $500 billion from $50 billion the asset threshold for banks to be regarded as systemically important financial institutions, or SIFIs.
"One of the things I worry about in the legislative debate is the definition of small means different things to different people," Lew said, pointing to banks with $150 billion or $200 billion in assets that could escape designation under Shelby's bill. "We have to be careful not to get into a conversation where we start rolling back some of the core protections that have made our system safer and sounder."
Depending on the number, banks that could receive less oversight if the minimum level were increased include SunTrust Banks Inc., with assets of $187 billion, and BB&T Bank Corp., with $209 billion. The largest lenders, such as JPMorgan Chase & Co. and Citigroup Inc., have more than $1.5 trillion in assets.
Under the 2010 Dodd-Frank Act, banks with more than $50 billion receive "enhanced supervision" that includes capital, leverage and liquidity requirements, and annual stress tests. The Fed has some flexibility to adjust those requirements from bank to bank.
Some ideas for changes "reflect a desire for clarity, which legislation can provide," Lew said. At the same time, "it's important for regulators to use the flexibility that they have," he said.
Before it's here, it's on the Bloomberg Terminal.
LEARN MORE