Express Scripts Covers $1 Alternative to $750 Pill Daraprim
by
Drug benefit manager partners with Imprimis Pharmaceuticals

Turing Pharmaceuticals raised Daraprim's price 5,000%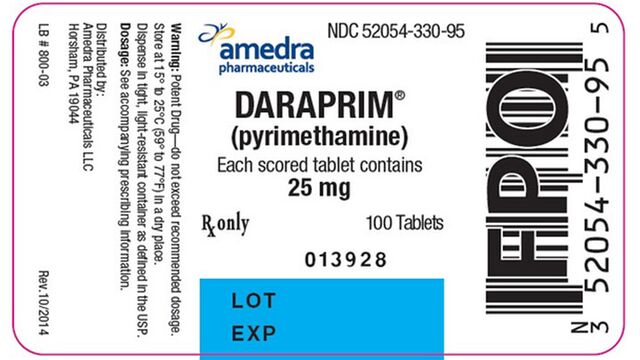 The U.S.'s biggest manager of prescription drug benefits said it will cover a $1-a-capsule alternative to the anti-parasitic treatment Daraprim, which costs $750 a pill after Turing Pharmaceuticals AG raised the drug's price from $13.50 this year.
Express Scripts Holding Co. said in a statement that it's partnering with Imprimis Pharmaceuticals Inc., a San Diego-based company specializing in compounded drugs. In October, Imprimis started making a medicine for as little as $1 a capsule that includes the active ingredient in Daraprim, pyrimethamine, together with a vitamin called leucovorin that Daraprim is usually used with.
Turing's price increase for Daraprim, a decades-old drug that no longer enjoys patent protection, drew outrage from politicians, doctors and health insurers. By having a compounding pharmacy combine the two drugs, Express Scripts doesn't need to wait for an FDA-approved direct competitor to Daraprim to come to market at a lower cost.
The $750-a-pill price "wasn't acceptable," Steve Miller, chief medical officer for Express Scripts, said in an interview Monday. Using a compounded drug is "a simple, elegant solution that gets desperate patients the drugs they need at an affordable price." Miller said because Daraprim isn't needed in large quantities, Imprimis should not have a supply problem.
Safety Concern
Daraprim treats a condition called toxoplasmosis, which is caused by a parasite that can become active in people with weakened immune systems because of HIV, chemotherapy or other conditions or treatments.
Turing is committed to ensuring access for patients who need Daraprim and has implemented assistance programs that can limit out-of-pocket payments on the drug to $10 per prescription, it said in an e-mailed statement. The company said it also supplies Daraprim to state AIDS Drug Assistance Programs for $1 per 100-count bottle, with 60 percent of Daraprim now sold at that price, and recently announced price reductions for hospitals. It also raised safety concerns about the compounded product.
"Patients and physicians are likely to assume the compounded product is as safe and effective as the FDA-approved drugs pyrimethamine and leucovorin, even though its safety and efficacy profile is unknown," Eliseo Salinas, president of research and development for Turing, said in the statement.

This Week
Express Scripts said it had made Imprimis part of its pharmacy network and would start processing claims for the compounded drug as soon as this week. Doctors must write a prescription specifically for the compounded version in order to get it.
After Turing came under fire, Chief Executive Officer Martin Shkreli said in September he would cut the drug's price. "We have agreed to lower the price of Daraprim to a point that is more affordable," he said in an interview with ABC News that aired Sept. 22.
On Nov. 24, though, Turing said in a statement that a reduction in Daraprim's list price wouldn't translate into a benefit for patients. Instead, it offered to negotiate discounts with hospitals of up to 50 percent. The company also said it would start providing free samples to some health-care providers and make smaller bottles of the drug available to hospitals next year, in order to lower their costs to stock the treatment.
Insurer Costs
Because many patients remain on the drug for months, including after they leave the hospital, Turing's decision not to lower Daraprim's list price means commercial insurers and payers who cover outpatient treatment may have to pay the full cost, according to Miller.
Imprimis founder and CEO Mark Baum said that while Express Scripts was the first big benefit manager to contact him, his company was in discussions with other major drug benefits managers about a compounded alternative to Daraprim.
Turing's decision not to lower the list price increased the need to find new options for patients who must take the drug, Johan Bakken, the president of the Infectious Diseases Society of America, and Carlos del Rio, chair of the HIV Medicine Association, said in an e-mailed statement.
 
"IDSA and HIVMA applaud the news that Express Scripts is taking steps to improve access to obtaining pyrimethamine for patients with toxoplasmosis," the doctors said in their statement. "We urge other private and public health insurers and pharmacy benefit managers to also make this option available to their beneficiaries."
Before it's here, it's on the Bloomberg Terminal.
LEARN MORE