Euro Area's Modest Recovery Sets Scene for Draghi Stimulus
by
Joblessness only slowly retreating from record 12.1% in 2013

Draghi could change size or duration of asset-purchase program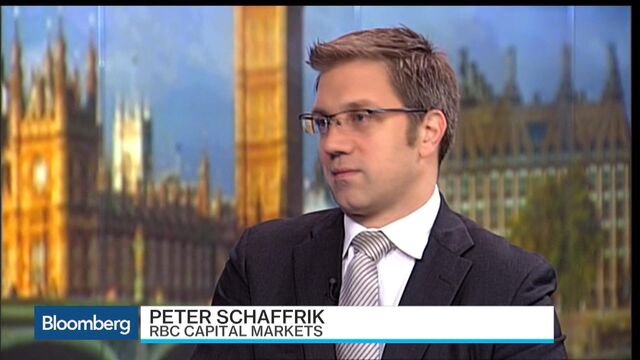 Factory growth in the euro area accelerated amid a continued decline in unemployment, extending a tepid recovery that may require more stimulus from the European Central Bank.
Markit Economics said in a report on Tuesday that its Purchasing Managers Index for the region rose to 52.8 in November from 52.3. The jobless rate unexpectedly fell to 10.7 percent in October, the lowest in almost four years, data from the European Union's statistics office showed.
While the economy of the 19-nation euro region is slowly improving, both growth and inflation are subdued, and ECB President Mario Draghi has signaled policy makers will respond with action this week. Their concern is that an expected pickup in prices in the coming months may only be temporary, eroding confidence in the ECB's ability to meet its mandate and nurture a recovery.
"It's by no means a spectacular pace of expansion," said Chris Williamson, chief economist at Markit in London. "The scene is set for the ECB to unleash further stimulus at its December meeting to ensure momentum continues to build."
ECB Choices
On the table are a range of options that include a deposit-rate cut, changes to the size or duration of the existing asset-purchase program, or new measures. The ECB will announce its decision on Thursday in Frankfurt, followed by a press conference by Draghi.
Emerging-market economies have been a drag on the global economy this year, and separate reports on Tuesday showed signs of weakness outside the euro-area. A gauge of Chinese manufacturing declined to the weakest level in more than three years in November.
In Brazil, Latin America's largest economy, gross domestic product fell 1.7 percent in the third quarter, the national statistics institute said in Rio de Janeiro. That was more than forecast and followed a revised 2.1 percent drop in the three months through June.
Labor Market
In the euro area, the region's labor market may well be the best indicator for the feeble state of the recovery. Joblessness is only slowly retreating from a record 12.1 percent reached in 2013. Youth unemployment rose to 22.3 percent in October from 22.2 percent the previous month, according to Eurostat's report.
Joblessness in Italy fell more than economists estimated to the lowest since December 2012. The rate was at 11.5 percent in October. Under a national measure, German unemployment fell by 13,000 in November, exceeding a prediction for a 5,000 drop and sending the rate down to a record-low 6.3 percent.
"It will likely be a while before significant wage pressures will come from the narrowing of the job market," said Bert Colijn, an economist at ING in Amsterdam. "Inflation will not receive much push from wages and unemployment, which supports the expected upcoming decision of further monetary stimulus by the ECB."
Markit said manufacturing in all euro-area countries surveyed expanded in November apart from Greece. However, price pressures in the region remained "on the downside," with output charges and input costs falling.
In Germany, Europe's largest economy, the manufacturing index increased to 52.9 from 52.1. Measures in Italy and Spain also rose, while France's PMI was unchanged from October. In Greece, the index remained below 50, indicating contraction, though it advanced to 48.1 from 47.3.
Manufacturing in Greece "appears to be edging toward stability," according to Samuel Agass, an economist at Markit. "However, incoming new orders and buying activity are declining sharply, indicating consumption is being constrained by the capital controls imposed on the economy."
Before it's here, it's on the Bloomberg Terminal.
LEARN MORE