ECB's Split With Fed Risks Running Until Draghi Near Retirement
By
Market indicator shows next ECB rate hike not before Nov. 2018

22% of economists say Draghi term will end with missed mandate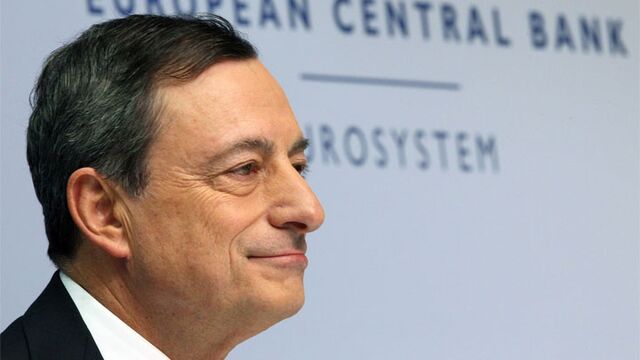 By the time the European Central Bank raises its key interest rate again, Mario Draghi might be on the verge of retirement.
As the euro area's chief monetary-policy maker prepares to deliver another salvo of stimulus this week, a Morgan Stanley gauge based on financial-market trading indicates the ECB won't raise its benchmark until November 2018. That's just a year before President Draghi's eight-year term ends. Some economists say he won't even achieve his inflation goal before he goes.
The outlook signals that despite more quantitative easing and ultra-low borrowing costs, the 19-nation economy will be plagued by weak economic growth and consumer-price gains consistently short of the ECB's target of just under 2 percent. It also sets the stage for a multi-year divergence with the Federal Reserve, which is poised to raise rates on Dec. 16.
"Draghi would, in our central scenario, kick off the normalization process shortly before he left for pastures new," said Ken Wattret, co-head of European market economics at BNP Paribas SA in London. "But it looks like a close-run thing and is far from guaranteed."
Too Fragile

Data published Tuesday highlighted the uneven pace of the euro-area recovery so far. While a gauge of manufacturing activity rose, it signaled only a tepid economic expansion. Unemployment in the currency bloc unexpectedly dropped to 10.7 percent in October, yet the decline from a high of 12.1 percent set in 2013 remains gradual. In contrast, the jobless rate in Germany, the region's biggest economy, slid to a record low.
Economists at Citigroup Inc. and Morgan Stanley are among those saying the ECB won't lift its benchmark from 0.05 percent before 2018 at the earliest, while those at BNP Paribas see a shift in the middle of 2019. Societe Generale SA goes even further -- predicting that Draghi will leave the ECB without ever tightening.
U.S. and European policies haven't split in the same month since 1994. Further down the line, the Fed could even be cutting rates again before the ECB can start raising.
Stimulus Meeting
With less than half his term in office still to go, Draghi is faced with a stagnation in consumer prices and, unlike the Fed, an economic recovery that may be too fragile to survive a global slowdown. The response when his Governing Council meets on Dec. 3 looks likely to be more action.
All economists polled by Bloomberg predict that policy makers will add stimulus on Thursday. Most expect a combination of measures such as a deposit-rate cut, an extension to the intended duration of quantitative easing, and an increase in the level of monthly bond buying.
It may be enough to save Draghi from the ignominy of becoming the first ECB president to fail to meet his mandate -- but that's no longer a given. Of the 50 economists surveyed, 11 said the ECB will fail to reach its inflation goal before Draghi steps down in four years, at the age of 72.

His predecessors Jean-Claude Trichet and Wim Duisenberg managed average inflation rates of 2.1 percent and 2 percent, respectively. Under Draghi, the rate has averaged 1.2 percent so far -- and most economists foresee the central bank cutting its inflation projections for 2016 and 2017 when it publishes revised forecasts on Dec. 3.

Among the most pessimistic ECB watchers are those at Societe Generale, who see inflation falling short through 2020 as the economy grows at a slower pace than its potential. Should U.S. output start contracting again before then, the ECB's scope to act will be limited even more.
"Inflation is going to stay below target, and then the U.S. is going to be in back in recession which will trigger another slowdown for the euro area," said Yvan Mamalet, an economist at Societe Generale.
Mamalet's colleagues predict the Fed will increase its benchmark to 2.75 percent by early 2018. When the U.S. central bank last started raising rates in June 2004, the ECB followed 18 months later in December 2005. Not this time.
Credibility Threat
"For the first time since the early 1990s we will see an outright divergence," said Elga Bartsch, co-chief global economist at Morgan Stanley.
In May 1994, Germany's Bundesbank cut its key rate, the de facto benchmark for continental Europe, as the Fed raised borrowing costs. By the time European rates rose in 1999, the ECB had become the region's monetary-policy setter.
Failure to revive inflation threatens the ECB's credibility as a manager of price stability, a risk already cited by the institution's chief economist, Executive Board member Peter Praet. As always with an unachievable goal though, there is one radical option -- move it.
The ECB may ultimately have to rethink its inflation target, according to Mamalet. Options could include reducing it, introducing a broader range, or setting a timeframe to hit it. Draghi already said last month that he's striving for inflation to stabilize "around levels close to 2 percent." That's slightly different to the standard definition of "below but close to 2 percent."
"It would be an internal decision with the ECB trying to restore credibility," said Mamalet. "It's not our base case, but it could be Draghi's legacy if things go the wrong way."