Dimon Says JPMorgan Plans Service With Peer-to-Peer Lender
by and
Biggest U.S. lender involved with a small-business P2P firm

JPMorgan among growing list of banks getting involved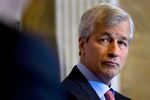 JPMorgan Chase & Co., the biggest U.S. bank, plans a venture with a peer-to-peer lender to small businesses, Chief Executive Officer Jamie Dimon said.
"We haven't announced it yet, we're going to be doing a thing with one of these peer-to-peer, small-business lenders," Dimon said Tuesday in a panel discussion in Washington. "The kind of stuff we don't want to do or can't do, but there's somebody else who can do it and do it probably well. So this is going to be collaborative."
The largest U.S. banks are offering more technologies and services demanded by consumers and businesses, including peer-to-peer lending, so startups don't steal market share, Bank of America Corp. CEO Brian Moynihan said last month. Online lending is evolving from so-called peer-to-peer financing, in which borrowers are matched with individuals looking to invest some extra cash, as Wall Street firms and institutional investors crowd in.
"Some of this peer-to-peer stuff will end up being good; it won't all be good," Dimon said. "You can use big data, all this other data, non-traditional data, could determine whether someone is a good credit or not."
Before it's here, it's on the Bloomberg Terminal.
LEARN MORE