Traders Are Betting on a December Rally This Year
by and
MSCI global equity index rose 2.2% on average in December

Barclays sees ``good reasons'' for the market to rally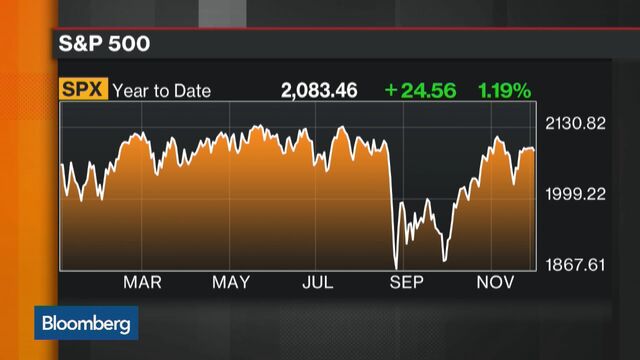 As usual, the arrival of December is bringing out the bulls among equity managers.
A Bank of America Corp. survey shows investors have increased their global stock allocations to a six-month high, betting on a rebound even as the MSCI All-Country World Index is heading for its first annual loss since 2011. It's only logical: equities have wrapped up the year with gains on all but five occasions since 1988, with December posting the biggest and most frequent increases of any month, data compiled by Bloomberg show.
This year, bulls are banking on increased stimulus from the European Central Bank, as well as Federal Reserve assurances that it will take a low-and-slow approach to raising rates. A year-end rally would mean more gains for U.S. and European shares, already up from lows earlier this year in anticipation of the policy meetings. The ECB verdict will come on Thursday, and the Fed's on Dec. 16.
"There's plenty of scope for further gains," said Daniel Murray, head of research at EFG Asset Management in London. "The demand is certainly there. Investors have grown more comfortable with the idea of a Fed rate hike, and as long as the ECB does something, then markets should remain quite robust."

After shunning equities amid global-growth concerns, fund managers turned more optimistic in November, adding to their positions and reducing cash to a 10-month low, according to the Bank of America survey published Nov. 17. The bullishness came just before December, a month in which the MSCI All-Country World Index has returned an average of 2.2 percent since 1988. The gauge headed for its biggest gain in more than a month at 9:55 a.m. in New York.
Economists predict ECB President Mario Draghi will boost stimulus again on Thursday, and most say the central bank will use multiple instruments to expand the scope of its existing 1.1 trillion-euro ($1.2 trillion) quantitative-easing program. Expectations are heating up: global stocks rose the most in more than two weeks in October, after Draghi signaled further action was likely.
At the same time, equity investors have remained unperturbed by the prospects of a Fed rate increase, growing confident that the U.S. economy is strong enough to withstand higher borrowing costs. The MSCI stock index was little changed when Fed Chair Janet Yellen said last month that a December move was a "live possibility," and has held within a steady range even with traders pricing in a 74 percent chance of a liftoff.
But not all investors are confident that central banks will offer a boost to global equities this month. In a year when volatility gauges have hit multi-year highs, some point to the risk that the ECB fails to deliver on expectations, or that the Fed's rate hike could trigger a panic selloff exacerbated by the typically low trading volume at this time of the year.
"I would prefer to remain cautious going into year-end," said Carsten Hilck, who manages $7.2 billion at Union Investment in Frankfurt. He says he's avoiding European bank stocks. "It could be a tricky month -- Draghi needs to show his cards before Yellen, and that puts him in a difficult position. There's always scope for disappointment when expectations of more ECB support are priced in."
Still, resilience in the face of terrorist attacks and geopolitical uncertainties suggests that stocks can end the year on a strong footing. Italian and German shares are among the biggest gainers in developed markets this year on optimism that QE will trickle through to the domestic economy, while a lower euro will help exporters. Across the globe, the Topix index has advanced 12 percent amid unprecedented easing by the Bank of Japan.
Even though stocks worldwide have rebounded about 9 percent from a September low, valuations are still 4.3 percent below their April peak.
"With the ECB giving even more support and economic data improving, there are good reasons for the market to move along," said William Hobbs, head of investment strategy at Barclays Plc's wealth-management unit in London. "And valuations aren't necessarily expensive. Whether further gains can be sustained in the long-term depends on what earnings will do. But that's something for 2016."
Before it's here, it's on the Bloomberg Terminal.
LEARN MORE