China's Past Investments Offer What-Not-to-Do Guide for New Push
Bloomberg News
Past investments designed to secure resources, technology

Obstacles included foreign government objections, disasters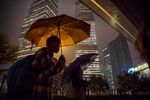 As a globally focused China embarks on plans to spend $1 trillion abroad in the next five years, reviews show the nation racked up about a quarter of that amount in soured foreign investments in the past decade.
Overseas direct investments that ran into trouble from 2005 to 2014 totaled $246 billion, with energy and mining making up more than 60 percent by value, according to government officials familiar with the matter. Obstacles included foreign government objections, natural disasters, inability to generate profit and other factors, said the officials, who asked not to be identified because the information isn't public.
A separate private tally of 161 "troubled projects" amounts to $260.8 billion since 2005. Either measure suggests more than one in every three dollars China invested or planned to invest abroad over the past decade turned sour. The nation spent $631 billion on overseas deals from 2005 through 2014, National Bureau of Statistics data show.
Premier Li Keqiang said last week China expects to invest $1 trillion over the next five years. With use of China's freshly endorsed reserve currency on the rise, preventing additional setbacks will require discipline not shown in the past as government and private companies focused on adding strategically important commodity and energy assets.
"China has spent a lot of money over the past decade and not gotten very much for it," said Derek Scissors, an economic policy fellow at the American Enterprise Institute in Washington who studies China's overseas investments. "In that respect, China's ODI can be considered a failure. But you have to walk before you can run."
China's ODI rose to a record $123 billion in 2014, exceeding the $120 billion of foreign direct investments in the country for the first time, NBS data show.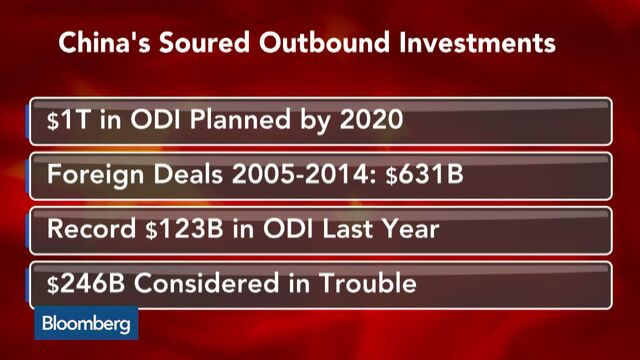 Global Focus
China's international investment and trade might is swelling along with its economy's size. The yuan on Monday won International Monetary Fund backing for reserve-currency status, the $100 billion Asian Infrastructure Investment Bank is taking shape in Beijing, and President Xi Jinping's "One Belt, One Road" initiative aims to weave Asia together with new and improved ports and rails from Jakarta to Nairobi to Rotterdam.
The National Development and Reform Commission, the government planning agency, didn't respond to a faxed request for comment on the soured investments.
China is still relatively inexperienced with overseas transactions, which began in earnest about a decade ago. Many foreign projects so far were made less as vehicles for financial returns and more as a way to secure supplies of essential commodities such as oil and gas or to help transfer new technologies into the domestic economy.
Scissors, who has maintained a database of China's overseas investments since 2005, lists 161 "troubled projects" that involve total investment of $260.8 billion. He says his definition includes those that failed in whole or in part because of serious mistakes or because they hit non-commercial barriers. By value, energy-related investments have run into the most turbulence while metals deals performed the worst.
Boom, Bust
"A lot of it is related to the cycle and the boom and bust in those different sectors," said Dali Yang, a University of Chicago professor of political science and author of "Remaking the Chinese Leviathan: Market Transition and the Politics of Governance in China."
In the latest sign of China's troubles with overseas investment, China's HKND Co. said last week it's delaying the start of work on a $50 billion canal across Nicaragua until late next year. The company gave no reason for the delay, according to an Associated Press report.
A smaller area of investment with a high failure rate is technology, largely reflecting acquisitions blocked by the U.S. on national security grounds, according to Scissors.
Only 30 percent of China's overseas investments are successful or profitable and 70 percent don't make money, Jin Liqun, then-chairman of China International Capital Corp., said in a 2013 speech, according to state media. Jin is now president-designate of the AIIB.
Digestion Problems
Because the bulk of China's outbound investment has taken place over the past three to five years, it's still too early to evaluate performance, says Daniel Rosen, a partner at Rhodium Group LLC, a New York-based economic-research firm that specializes in China.
"The first several years after a major new investment are generally spent digesting it, and should not be expected to show long-term average returns yet," Rosen said.
In the wake of the IMF's decision to include the renminbi in its Special Drawing Right basket, HSBC Holdings Plc economists expect China will further liberalize access to its asset markets and for two-way capital flows to increase.
— With assistance by Kevin Hamlin, and Steven Yang
Before it's here, it's on the Bloomberg Terminal.
LEARN MORE