Canadian Oil Sands Highlights Falling Costs Amid Suncor Takeover
by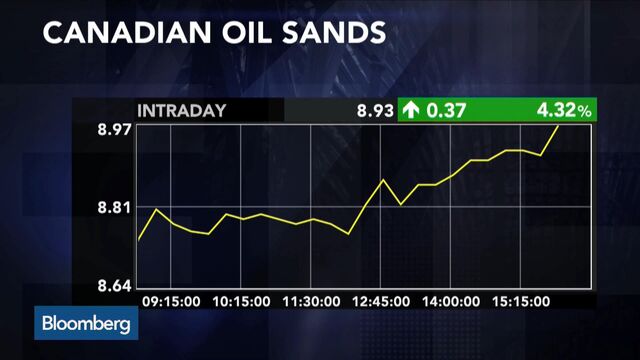 Canadian Oil Sands Ltd. Chief Executive Officer Ryan Kubik said falling operating costs are not being reflected in Suncor Energy Inc.'s hostile C$4.5 billion ($3.4 billion) takeover bid that undervalues the largest owner of the Syncrude oil-sands mine.
Syncrude's operating costs next year are estimated to be about C$37 a barrel, low enough for Canadian Oil Sands, the mine's largest owner, to weather the low crude prices, Kubik said in a webcast Tuesday. The company expects an average price next year for West Texas Intermediate, the U.S. benchmark grade, of $50 a barrel.
"There aren't going to be many oil companies out there that can say they can cover their costs and dividend" at current oil prices, he said. WTI traded at $41.30 a barrel as of 8:42 a.m. on the New York Mercantile Exchange.
Kubik and his board of directors are fighting a hostile takeover bid by Suncor, which is offering shareholders 0.25 Suncor share for each of Canadian Oil Sands, and telling owners they have more upside keeping their shares when oil prices improve. Suncor Chief Executive Officer Steve Williams has said his offer protects shareholders in the current price environment while also offering opportunities for stock price gains.
Before it's here, it's on the Bloomberg Terminal.
LEARN MORE