business
Who's on Track to Meet Renewable Energy Targets and Who May Lag Behind?
By and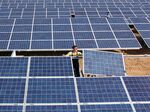 Countries have submitted national emissions plans and targets to the UN in the run up to COP21 in Paris. Although emissions are the core component of these figures, many countries have also set out targets for the growth of renewable energy.
But submitting their renewable energy plans is only the first step. Counties next need to put these plans into action—and according to a Bloomberg New Energy Finance analysis, some nations may find that to be an uphill battle.
According to the BNEF report, Australia, Brazil, Japan and the European Union are likely to reach their renewable energy targets. For other major global players, including the U.S., the goals may be far less attainable.

This article originally ran in Bloomberg Brief's Sustainable Finance newsletter. 
Before it's here, it's on the Bloomberg Terminal.
LEARN MORE