Cameron Calls U.K. Vote on Syria Strikes Amid Labour Split
by and
Prime minister's question time canceled to allow longer debate

Corbyn will oppose attacks as others in Labour back them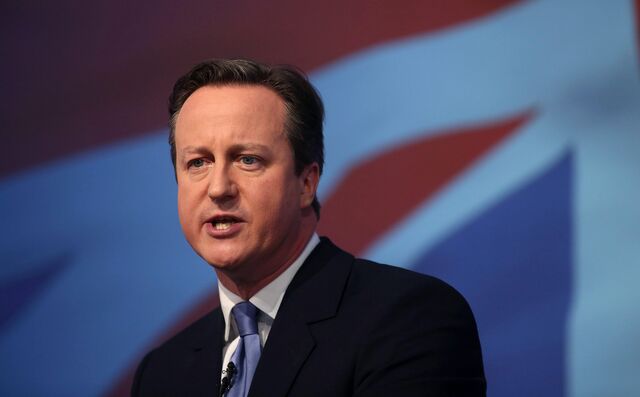 Prime Minister David Cameron called a vote for Wednesday on extending British airstrikes against Islamic State into Syria, after Jeremy Corbyn said he wouldn't try to force lawmakers from his opposition Labour Party to oppose action.
Cameron said last week that while he wanted to order strikes in Syria, he wouldn't do so unless he was sure of winning a vote on the measure in the House of Commons. That threw Labour into a weekend of chaos, with its leader Corbyn announcing he was against action while senior party figures led by the foreign-affairs spokesman, Hilary Benn, said they supported it. Corbyn gave way on Monday and agreed that Labour members of Parliament would be free to vote with their consciences.
Cameron, confident that Labour members who support bombing Islamic State, also known as ISIL, will outweigh those among his Conservative Party who oppose it, responded by announcing the vote will follow a long debate on Wednesday. The weekly prime minister's question time, usually held at noon, will be canceled to allow extra time for discussion before a vote at around 10 p.m. in London. Corbyn will speak for Labour against bombing, while Benn, also for Labour, will speak in favor.
"I can announce that I will be recommending to Cabinet tomorrow that we hold a debate and a vote in the House of Commons to extend the air strikes that we have carried out against ISIL in Iraq to Syria," Cameron said in a televised statement in London late Monday. "That we answer the call from our allies, that we work with them because ISIL is a threat to our country and this is the right thing to do."
Strategy Briefings
Cameron has tried to win Labour lawmakers over to his side by offering them Ministry of Defence briefings on the strategy against Islamic State. Corbyn has sought to persuade them by encouraging Labour activists, who polls suggest oppose any bombing, to lobby their representatives.
Corbyn was challenged Monday at meetings of both his shadow cabinet and the wider parliamentary party, according to people who were present. The shadow-cabinet meeting lasted nearly two hours. At one point, according to a person familiar with the private discussions, Benn said he would speak from the back benches of the chamber, where rank-and-file lawmakers sit, rather than his official position on the Labour front bench, if there was an attempt to enforce a party line.
The Labour leader went from that meeting to one with all his party's lawmakers. There, Corbyn was criticized for his handling of the issue, especially for what many lawmakers see as his use of activists to bully them, according to several people present who asked not to be identified because the talks weren't public. While the meeting took place behind closed doors, shouting could be heard outside at one point. Afterward, Corbyn's office said it had been a chance for people to express themselves, and that lawmakers were coming round to his side.
Before it's here, it's on the Bloomberg Terminal.
LEARN MORE