Terrorists Are Among Syrian Refugees Going to Europe, Assad Says
by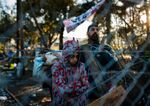 Terrorists are among the refugees who are entering Europe after fleeing the Middle East, Syrian President Bashar al-Assad said in an interview.
QuickTake Europe's Refugee Crisis
Ending the civil war in Syria that has killed more than a quarter of a million people and displaced more than a million others requires defeating the rebels who are fighting to overthrow his government, according to part of an interview with Assad by Czech Television published on Monday.
Assad's comments coincided with a meeting on Syria between U.S. President Barack Obama and his Russian counterpart Vladimir Putin on Monday. The two leaders are at odds over Assad's future, a dispute that has hindered France's efforts to unify them in the fight against Islamic State after the attacks in Paris. At the same time, the European Union is struggling to handle the arrival of more than a million migrants this year, an influx that Assad said included terrorists.
"It's a mix," Assad was cited as saying on Czech Television's website. "The majority are good Syrians, patriots, correct people. But of course among them you have terrorists who have infiltrated. That's true, and how many is hard to say." Czech Television said the full interview will be broadcast on Tuesday night.
The U.S. and its allies insist that Assad must leave power as part of any deal to end the war in Syria. It says efforts must focus on defeating Islamic State, and Russia must stop attacking rebels who are fighting to oust the Syrian leader but who aren't part of the extremist group. Putin's government has sent military forces to the Middle East for the first time in more than three decades to support Assad's regime against the rebels.
Before it's here, it's on the Bloomberg Terminal.
LEARN MORE