Reluctant Banker Now King of $10 Billion in India Tech Deals
by
Bhinde of Avendus Capital channels cash to hungry startups

In heated market of high valuations, can momentum continue?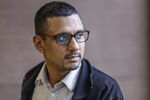 When Aashish Bhinde graduated from one of India's top business schools 20 years ago, he was clear about one thing -- he wanted to steer clear of a career in finance, with its long hours and endless spreadsheet number crunching.
Yet today, Bhinde is India's top dealmaker for the country's booming technology startups: his 19-person team at Avendus Capital Pvt. has advised on more Internet deals than any other bank, according to data compiled by Bloomberg. Its steady growth in advising the country's emerging businesses caught the eye of U.S. private equity group KKR & Co., which last month agreed to buy a 72 percent stake valuing the 16-year-old investment firm at $185 million.
"A lot of what we've achieved is because the markets have done extremely well and we found ourselves in the right place at the right time," Bhinde, 44, who heads the technology and digital practice for Mumbai-based Avendus, said in an interview. "We were early to the party and saw ourselves as somebody who is helping build the ecosystem."
In the past three years, global investors have plowed more than $10 billion into India's consumer Internet companies, fueling a boom in startups that create apps redefining the way Indians shop, eat and travel. In 2011, Avendus was among the first investment banks to start a practice focused on the sector. That early start helped Bhinde and his team establish relationships with fresh-out-of-college entrepreneurs, venture capitalists and private equity firms before the pace of funding picked up and large global investors came calling.
Avendus is at the top of the league table for its advisory on Internet and e-commerce deals in India, beating Deutsche Bank AG, Credit Suisse Group AG and others. The bank advised on 20 Internet deals totaling $1.1 billion in the past four years, compared with No. 2 Deutsche Bank's single deal worth $700 million. Additionally, Bhinde's team advised on 13 other deals in related fields such as payments technology, logistics and entertainment, bringing its total transaction value to $1.75 billion, according to data provided by the company.

Its deals include Bollywood music-streaming service Saavn's $100 million fundraising from a group of investors led by Tiger Global Management LLC this year, as well as advising ride-hailing service TaxiForSure on its $200 million acquisition by SoftBank Group Corp.-backed rival Ola Cabs.
Consumer-facing Internet startups drew about $5.6 billion in fresh capital this year, more than six times the total in 2013, according to Bengaluru-based data provider Tracxn. As more global funds came in, heavyweights such as Tiger Global have taken to investing in companies earlier in their cycles, competing with seed funds and angel investors in backing entrepreneurs with unproven business ideas.
Mid-tier investment banks such as Avendus play matchmaker between entrepreneurs hungry for capital and the investment funds ready to bet $50 million or more in these privately held Indian companies. The bank now gets 70 percent of its revenue from its advisory business, Chief Executive Officer Ranu Vohra said in an interview after announcing the deal with KKR. That mix is likely to change as the funds from KKR would allow it to offer structured loans and other forms of lending to companies, he said.
Strong Understanding
"They have a strong understanding of technology, both consumer and enterprise," Ben Mathias, managing director for India for Temasek Holdings' venture capital unit Vertex, said in an interview. "Aashish in particular knows the landscape extremely well, and I have often used him as a bouncing board for ideas around my portfolio companies even if there is no active fundraising taking place."
After getting an MBA from the Indian Institute of Management in Kolkata in 1995, Bhinde worked at Colgate-Palmolive Co. for two years, then left for a startup that built and exported speakers. Three years later he left to start his own audio company. The dot-com bust wrecked the startup's fortunes, causing it to shut down in 2001.
He took a job managing investments for a venture capital firm that had invested in his company. While negotiating a deal, Bhinde met Avendus co-founder Gaurav Deepak, who recruited him into Avendus's technology practice in 2006. 
Initially the business consisted of advising software exporters and back-office outsourcing companies on mergers and acquisitions, and Bhinde later moved to London to establish Avendus's European operations. In 2011, Deepak wanted to expand to e-commerce and digital companies that were starting to draw investor interest. 
Emerging Sector
He asked Bhinde to return to India. Flipkart Online Services Pvt. had transitioned from being a bookseller into selling electronics, and venture capital firms were funding dozens of e-commerce startups selling apparel to furniture. While Bhinde's first year yielded just one deal, his team spent time researching the industry and found a sector nobody had yet placed a value on had already grown to more than $700 million in annual sales.
"When we spoke to companies, nobody knew where to classify themselves, how to explain the structure of the industry," Bhinde said. "We had to do a lot of research to triangulate what's happening in other markets, and we started putting out a lot of projections."
Avendus's 2011 report, "India goes Digital," with 168 pages detailing Internet usage patterns, smartphone penetration, e-commerce growth and the evolving cashless payments landscape, was the first to quantify the industry and chart its growth. Bhinde's team, including investment banker Karan Sharma, projected that sales by e-retailers would total $11.7 billion in 2015, from $819 million in 2011. 
Spot-On
The prediction was almost spot-on. India's e-commerce companies will sell about $11 billion worth of goods this year, and that figure is expected to grow to $220 billion by 2025, Bank of America Merrill Lynch said in a report last month. 
A 2011 report from the Associated Chambers of Commerce of India, one of the nation's largest corporate lobbies, had estimated that e-commerce sales would amount to just 70 billion rupees ($1 billion) by 2017.
From just one deal in 2011, the bank has closed 15 so far this year. All but four of its 33 transactions were funding rounds by private equity and other investors, and that mix is likely to change as the smaller players get acquired by larger rivals, said Sharma, now a director in Bhinde's team. At least 113 technology startups have been acquired this year, compared with 50 last year, data from Tracxn show.
Massive Consolidation
"We are going to see massive consolidation," Sharma said on the sidelines of a conference showcasing startups in Bengaluru in September. "There are a lot of companies that have gotten funded sizably, and more importantly, there are companies that have the size to acquire" their smaller peers.
That could involve startups buying rivals or large companies acquiring firms in other businesses for talent or intellectual property. Most recently, classifieds marketplace Quikr was in talks to buy apartment hunting site CommonFloor.com, the Economic Times reported today. CommonFloor declined to comment, and said a fund-raising is in progress and "multiple options are on the table."
Partly because of the furious pace of funding, which has seen six Indian companies raise funds at more than $1 billion valuations in the past two years, the Internet consumer market has become "overheated,'' said Vertex's Mathias. Investors are much more cautious now, he said. 
"In my entire career, I have only seen two periods when so many deals happened so fast -- one was during the dotcom boom and the other was in e-commerce recently," said Vineet Toshniwal, managing director at investment bank Equirus Capital Pvt. in Mumbai. "Now that is over. Lots of funds that invested here are gone, and we are seeing dealmaking return to sane levels."
More Competition
Avendus's typical transactions range from $50 million to $75 million, and the company has raised commissions by 25 percent in the past three years, CEO Vohra said.
The fee increase comes as boutique investment banks such as Signal Hill Capital Group, O3 Capital Global Advisory Pvt. and GCA Savvian Corp. have increased their focus on the technology sector. There are also smaller operations run by former chief financial officers and bankers going after sub-$20 million deals. Avendus also has to compete against founders of big companies such as Flipkart, Snapdeal.com and PayTM Mobile Solutions Pvt., that have become prolific angel investors and dealmakers.
Bhinde is still confident. While India's first wave of startups were in e-commerce and logistics, the next, bigger wave is likely to be in services such as transport and health care, he said. In the last year alone, startups using efficient route mapping to make deliveries cheaper have mushroomed, and e-pharmacies and health care apps have raised more than $200 million.
"The technology ecosystem has spread its tentacles into pretty much every industry," Bhinde said. "We genuinely believe that digital is going to play a big role in solving a lot of the problems that this country faces."
Before it's here, it's on the Bloomberg Terminal.
LEARN MORE