Obama Joins Xi Urging Unity on Climate After Terror Attacks
by , , and
11 industrial nations pledge $248 million for climate fund

Biggest ever gathering of world leaders organized by UN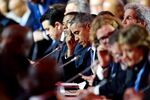 U.S. President Barack Obama joined Xi Jinping of China in urging 195 nations to work for a deal on global warming as a sign of the international community's resolve in the face of terrorism.
Speaking in Paris less than three weeks after attackers killed 130 people in the French capital, the leaders said they'd take additional steps to rein in global warming and give financial support to developing nations working to do the same.
The remarks at the start of two weeks of talks were aimed at spurring momentum on the United Nations effort to adopt the first ever limits on fossil fuel emissions applying to all nations after 2020. In what the UN said is the biggest-ever gathering of leaders on a single day, the U.S. joined 10 other industrial nations in pledging $248 million for climate-related projects in the poorest nations.
"We have come to Paris to show our resolve," Obama told delegates at the conference on Monday. Moments later, Xi said that "our presence shows terrorism cannot hold back mankind's efforts to address climate change."
More than a year in the making, the UN conference is intending to adopt limits on fossil-fuel emissions that will apply in all nations for the first time. The deal would replace the 1997 Kyoto Protocol, whose curbs applied to industrial nations only.
Still to Resolve
Some 147 leaders including four kings and the heir to the U.K. throne, Prince Charles, are addressing the gathering and will continue speaking into this evening. After they depart, envoys drawn mostly from energy and environment ministers will negotiate the details of the pact.
Still unresolved is the legal nature of the deal -- whether it's a treaty or something looser that wouldn't require ratification -- and what sort of mechanism will be in place to ensure nations boost ambitions to fight global warming in the decades ahead. The pact would take effect in 2020, with many countries using 2030 as a reference year to discuss the voluntary cuts they're making.
UN Secretary General Ban Ki-Moon said the envoys should focus on compromise instead of their own agenda, a sign of the tensions between richer and poorer nations that the leaders sidestepped in their remarks.
Path of Compromise
"I urge you to choose the path of compromise and consensus, and if necessary of flexibility," Ban said. "The time for brinkmanship is over."
Vladimir Putin said that Russia is ready to provide financial and other support to developing nations to cut emissions using UN mechanisms. He also asserted the need for a deal that's legally binding, something the U.S. would find difficult to ratify.
"It is essential for the new climate agreement to be based on the principles of the UN Framework Convention on Climate Change and to be legally binding," Putin said. "In its implementation it should involve both developed and emerging economies."
Adding a discordant note, Bolivia's President Evo Morales hit out at industrial nations, saying they're to blame for global warming.
"We make an urgent and necessary appeal to governments and peoples in the world, and in particular to the governments of the capitalist powers of the world for them to stop destroying our planet irreversibly," Morales said. "Mother Earth is getting dangerously close to the end of its vital cycles. This system draws its inspiration from the philosophy of capitalism, and this system has devoted itself to producing infinite amount of disposable goods and this is today destroying our nature."
Exactly how nations finance the shift to a world that uses less fossil fuel is key among the issues yet to be resolved. When envoys last tried to seal a global deal in 2009, industrial nations pledged that they'd boost climate-related aid to $100 billion a year by 2020. They haven't said how they will meet that pledge, something developing nations say is necessary for them to invest in low-carbon energy systems.
The U.S. along with Canada, Denmark, Finland, France, Germany, Ireland, Italy, Sweden, Switzerland and the U.K, said they'd shift $248 million into a fund for the least developed countries. South Africa's President Jacob Zuma, echoing remarks most developing nations have been making for years, said the rich countries are far from making good on their promises.
"We urge the developed countries, given their historical responsibilities, to take the lead and honor their existing commitments," Zuma said. "In this regard, climate finance must be scaled up significantly beyond the $100 billion. It is a legal obligation to support all developing countries under the UN convention."
Obama said it was working to boost funding and that issues that divide the delegates shouldn't drag down the talks.
"One of the enemies that we will be fighting at this conference is cynicism, the notion that we can't do anything about climate change," Obama said. "Our progress should give us hope, hope that is rooted in action."
Xi said "climate friendly technologies should be transferred to developing countries" and reiterated China's pledge to develop a carbon market that would put a price on pollution.
---
Before it's here, it's on the Bloomberg Terminal.
LEARN MORE