Lapo Elkann Features Star Wars Design for Autos Return
by
Elkann's Garage Italia customizes cars, yachts, helicopters

Agnelli heir says his new company may end up building cars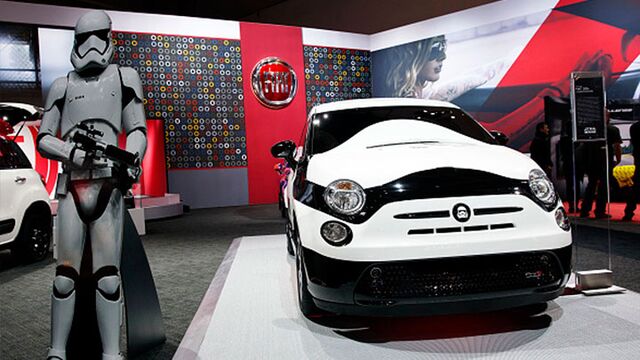 Lapo Elkann, a flamboyant heir of Italy's Agnelli family, is making a comeback in the auto industry after a 10-year hiatus with a startup that offers customized cars such as a Fiat 500 redesigned to look like a Star Wars storm trooper.
Elkann, 38, bought a vintage 1950s-era gas station in Milan to base Garage Italia Customs, a company that personalizes anything that moves -- from Ferraris to yachts to helicopters. His new business also will be home to a restaurant managed by star chef Carlo Cracco.
"Cars are the love of my life," Elkann said during lunch at Al Girarrosto, a traditional Italian restaurant in downtown Milan. "For 10 years I've been an orphan from my biggest passion," said Elkann, who left his job as head of brand promotion at Fiat SpA in 2005 to enter the same drug-rehabilitation clinic that treated supermodel Kate Moss. At the company, he promoted the carmaker to younger clients by licensing sweatshirts, sneakers, wine and cafes under the Fiat name as it fought to re-gain customers and avoid bankruptcy.

Together with his siblings John and Ginevra, they are the majority shareholders in Exor SpA, the Agnelli company that controls Fiat Chrysler Automobiles NV and Ferrari NV. His older brother John, chairman of FCA and Exor, oversees the family's business investments. Elkann, who in 2007 started Italia Independent Group, a maker of eyewear and lifestyle products, doesn't rule out a return to Fiat Chrysler.
"I decide a lot with my gut," he said when asked if he would accept an eventual job offer.
Garage Italia so far has customized about 100 cars including Mercedes SUVs with desert landscape patterns. Now he's discussing projects with BMW AG as demand for individualization grows. With a "tailor-made" program that Elkann helped develop, Ferrari boosts the price of its supercars such as the $327,100 F12 Berlinetta about 30 percent by adding personal touches like cashmere-covered seats.
Personalizing vehicles is expected to boost spending for high-end autos by 8 percent this year, the fastest growing segment in the luxury-goods market. The price could even be tripled with individual touches, according to a Bain & Co. study. 
"There is a growing appetite for a 360-degree luxury experience, such as high-end transportation that includes customized super cars and yachts," Bain partner Claudia D'Arpizio said in the report.
A grandson of late Fiat Chairman Giovanni Agnelli, Elkann doesn't exclude Garage Italia eventually producing vehicles or becoming a car brand. "I don't want to set any limit to my team," says Elkann, dressed in an orange tweed bespoke suit with orange socks and tie, and a Garage Italia Customs logo embossed on his handkerchief pocket.
"Design, personalization and high-skilled craftsmanship should be a mantra for Italian producers to survive against global competitors," said Giuliano Noci, a marketing professor at Milan's Polytechnic University. The architect Michele De Lucchi, who designed the popular Pavillion Zero for Milan's International Expo, is in charge of the restoration of the Milan gas station that will also sell merchandise.
Elkann intends to expand his venture by opening similar "garages" in Miami and Dubai. He's planning to meet managers in the Silicon Valley in coming weeks as part of his interest in the radical changes he expects in the industry with technology giants like Google and Apple considering whether to enter the car business. The transformation of the car into a full-service mobile device is viewed as a potential revenue goldmine for the technology industry.
"Some car bosses will have to take cold showers with those tech companies investing in the automotive sector," Elkann said. "The number of carmakers is going to shrink in coming years and the first one that seals a deal with them could end up being the winner."
Tougher rules on emissions require massive spending by mass carmakers, while technology companies have billions of dollars available for investments, Elkann said Monday in a interview with Bloomberg Television.
"So the reality is that tech and automotive industries have to speak and learn to go hand in hand."
Before it's here, it's on the Bloomberg Terminal.
LEARN MORE