Kenya Central Bank Governor Gets Buffers Ready for Fed Shock
by
Monetary policy tightened in anticipation of Fed rate increase

Central bank committed to flexible exchange rate system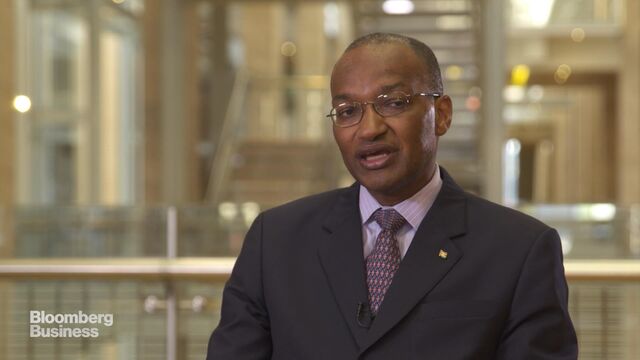 Kenya is ready to take action to protect the economy from potential market turmoil when the U.S. begins raising interest rates, having built up enough buffers to prepare for the event, central bank Governor Patrick Njoroge said.
While a rate increase in the U.S. has largely been priced in by financial markets, policy makers in East Africa's largest economy will draw down reserves, adjust interest rates and tighten liquidity if there's a currency shock, Njoroge said in an interview in Cape Town. Fiscal resources are also available to help cushion the blow, he said.
"We won't be caught flat-footed as may have happened in the past," Njoroge said on Nov. 27. "Because it's been so anticipated, we have had the time to think through it. We are hoping for the best, but if the worst turns out, we can implement policies that will protect us from any shocks."
Emerging markets have been rattled this year as speculation mounts that the U.S. Federal Reserve will raise interest rates for the first time in almost a decade, possibly as early as December. African currencies have been among the worst hit, with the slide in sentiment being worsened by the downturn in China and a slump in commodity prices from oil to copper.

Njoroge, who turns 54 on Wednesday, has tightened monetary policy aggressively since he took office in June, raising the benchmark interest rate by 150 basis points to 11.5 percent and reducing liquidity to bolster the currency. The central bank had foreign-exchange reserves of $6.75 billion as of Nov. 25, covering about 4.3 months of import needs.
The shilling has gained 3.3 percent since Sept. 8, when it reached an almost four-year low against the dollar of 106.67, allowing the central bank to begin boosting money supply. As interbank market rates and commercial lending rates ease, the central bank will consider reducing the benchmark rate after leaving it unchanged at the past three meetings, Njoroge said.
Njoroge is seeking to rein in inflation while supporting an economy hit by a slide in tourism following a spate of deadly attacks by the Somali militant group, al-Shabaab. Dry weather curbed tea output, the nation's biggest source of foreign currency, while the El Nino weather pattern is set to put further pressure on farming production.
"It's true that in the short run, the higher rates will have a contractionary effect on the economy," he said. "But the point is that we are looking at restoring macro-stability, which will strengthen the economy in the long term."
IMF Career
Inflation at 6.7 percent is still within the 2.5 percent and 7.5 percent target set by the government. The Treasury has cut its growth forecast for this year to between 5.8 percent and 6 percent from a previous range of 6.5 percent and 7 percent.
Njoroge was a surprise appointment to some analysts when he was named as President Uhuru Kenyatta's pick for governor almost six months ago. He was an external candidate, having spent the past two decades at the International Monetary Fund, mostly in Washington and more recently as an adviser to Deputy Managing Director Mitsuhiro Furusawa.
He took decisive steps to cement the central bank's credibility since taking office, tightening monetary policy, bolstering the currency and imposing a temporary ban on new banking licenses after halting operations at two lenders.
The monetary policy stance may have led to an overvalued currency, according to analysts including at Renaissance Capital, which sees a rate of 152 per dollar as "fair value." The shilling was at 102.15 against the dollar as of 3:15 p.m. in Nairobi, the capital.
Currency Outlook
"We don't think the currency is overvalued," Njoroge said. "We embrace the flexible exchange rate regime. We're unwavering in our view there and so from our perspective, we will let it move based on the fundamentals."
While investors are concerned about a widening current-account deficit, those figures are inflated by imports of aircraft and equipment related to railway construction, the governor said. Removing those items lowered the shortfall to about 7.1 percent of gross domestic product in the first nine months of the year, he said.
The IMF estimates a current-account gap of 9.9 percent this year, while the government is running a budget deficit of 8.7 percent of GDP this fiscal year.
The moratorium on banking licenses is to give the central bank room to improve supervision of rules and allow commercial lenders to strengthen their operations and possibly combine assets, Njoroge said.
"For instance, there will be banks that have been operating in only one sector and they may not be that resilient," he said. "They may be strong today but they may not be resilient to shocks. So it may useful for them to consolidate with other banks operating in different areas."
Before it's here, it's on the Bloomberg Terminal.
LEARN MORE