Vintage Watches
It's Time to Learn About the Wide Variety of Military Watches Worth Collecting
At the December 15 Antiquorum watch auction, you'll find three watches from different brands brands and countries that are worth knowing about
By
Collectors love military watches. It's as simple as that. Naval dive watches, like the Rolex Submariners used by the British Ministry of Defense and the Blancpain Fifty Fathoms watches used by the American Navy, are definitely the most collectable and fetch the highest prices. But they're not the only handsome and valuable military watches out there. Here are three pilot watches in Antiquorum's December 15th auction in New York City that are worth a look.

The Breguet Type XX is an anomaly for the brand. High complications and elegant dress watches are what most people expect from Breguet, but in the 1960s it made a few variations on a chronograph for the French military pilots. This one is the reference 3077 ($7,000 to $10,000 estimate), which has a distinctive "big eye" subdial at 3 o'clock to count out the minutes for the chronograph (the 12-hour dials is down at 6 o'clock). The matte black dial has big luminous numbers and hands, plus the 12-hour rotating bezel for timing long flights.

For a slightly simpler chrono, there's the Zenith CP-2 Type ($3,000 to $5,000 estimate) from circa 1960. It has just two resisters, with the minutes counter going up to 30 minutes for the chronograph. The bezel is actually like one you'd see on a dive watch, graduated in minutes with numerals at 15, 30, and 45. The chrono seconds hand has big luminous triangle at the tip and if you look at the bottom of the dial you'll see "A. Cairelli Roma," the boutique in the Eternal City that retailed these watches.

And finally the outlier: the Longines Ref. 595 ($2,000 to $3,000 estimate) pilot's watch isn't a chronograph at all and was made for the Czech military in 1935. There's a little red triangle mounted to the round bezel that can rotate and act as a marker for timing out an event and the hands look like something you might see on a World War I trench watch. The cushion-shaped case is anti-magnetic (as noted on the dial) and it's a unique look in the world of military watches. 
All three of these are hitting the auction block at Antiquorum's next sale, taking place in New York City on December 15.
Watch Next: The Most Complicated Watch Ever Made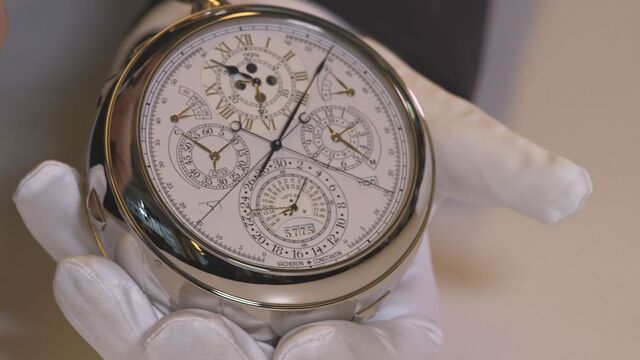 Before it's here, it's on the Bloomberg Terminal.
LEARN MORE