Israeli Billionaire Creates Arab Jobs, Doubts Tech Culture
by
Stef Wertheimer at 89 says jobs are answer to violence

He is planning another Arab industrial park, for Bedouins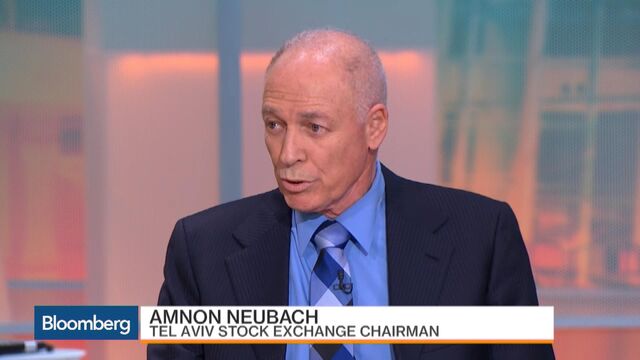 Israel is suffering the worst anti-Jewish violence in a decade, causing many Israeli Jews to shun Arabs and blame radical Islam. Stef Wertheimer, the country's third wealthiest man, has a different attitude. He is building Arab workplaces.
Wertheimer created Israel's first industrial park 30 years ago. He chose the country's Arab-majority north for it, and today it ships out industrial exports, including flash memory devices and beauty products. After recently erecting a similar park in Nazareth, Israel's largest Arab city, Wertheimer is planning still another in the south for the Bedouin, one of the poorest and most under-served communities.
"The people don't have jobs," he said of the wave of violence, as if stating all one needs to know in explaining the frustrations of Israel's 1.7 million Arab citizens.
At 89, Wertheimer might be expected to sit back and enjoy the fruits of decades of intensely successful work. But he is nothing if not a believer in the value of manual labor, the chapter-by-chapter theme of his recently translated autobiography, "The Habit of Labor: Lessons from a Life of Struggle and Success."
Base for Coexistence
Wertheimer has spent tens of millions of dollars building six industrial parks and training programs around Israel's fringes for blue-collar jobs that he says serve as a base for coexistence. So while Prime Minister Benjamin Netanyahu blames the latest bloodshed on Islamist incitement, Wertheimer believes both the problem and its solution are largely economic.
Wertheimer remains an admired figure in Israel, notably for the $6 billion sale of his metal cutting company Iscar Ltd. to Warren Buffett, his first purchase outside the U.S. He challenged the early socialist economy, battling bureaucrats while employing thousands in his factories and amassing a fortune.
Israel has moved on from that industrial focus and he thinks it has gone too far. Venture capital from all over the globe is funding the most startups per capita, anywhere. That feeds the race to develop the next blockbuster app or software for the celebrated exit that has minted a class of millionaires. Great, says Wertheimer, but that's no substitute for the stable work provided by producing tangible goods, like cars and chocolates.
"We have a few young people who are very successful in it and this gives us the wrong impression that the whole country can live off high tech," said Wertheimer, as he sits in his office in Tel Aviv, two Jean David paintings on the wall. "It's giving us a feeling that we have something which is making money, but does not create jobs for enough people."
The country is having one of its best years in high tech mergers and acquisitions, some $9 billion, IVC Research Center data show. Though the sector accounts for nearly 50 percent of all manufactured exports, according the Central Bureau of Statistics, it employs a tenth of the country's four million strong workforce.
Escaped the Nazis
Wertheimer was born in a German village in 1926 to a family of small business owners. Sensing the Nazi threat, his family set off for Mandatory Palestine when he was 10.
It was a difficult transition. He was teased at school because of his German accent, which he still bears. After being expelled for punching a teacher at 13, he and his parents decided school was not for him. He began working in a camera-repair store, the first station on his life's trail with machines. He was trained as a pilot in the war for independence and was a member of the elite Palmach striking force.
His hearing and his sight are fading but not his energy or drive. Twice a week he commutes in his white Bell 429 helicopter to his main office up north inside the Tefen industrial park. There he not only plays host to 20 companies but has created museums of art and German-Jewish history as well as a sculpture garden. A rare mix of high-minded and earthy, he likes to lunch with workers in the cafeteria.
"There aren't many people like Stef these days," said Elias Haddad, founder and designer of Jolie Diamonds, a jewelry chain of 10 Arab and Jewish employees based in Nazareth's industrial park. "He promotes peace and coexistence and we wanted to be a part of this kind of society." During his monthly visits, Wertheimer likes to watch Jolie workers in action, Haddad added.
Jewish State
Other Arabs say while they appreciate Wertheimer's effort to help, the issue is more political than economic -- Israel is a Jewish state.
"The problem is from one-to-10 political; number 11 is economic," said Munib Masri, chairman of the Palestine Development & Investment Co. in the West Bank and one of the richest Palestinians. Wertheimer is "an impressive man and he means well. Unfortunately, he doesn't understand the Palestinian question."
Palestinian citizens of Israel, who make up 20 percent of the population, are far behind the national average in education, employment and wages, according to a recent OECD report. They're largely absent from Israel's tech boom.Most don't live close to the Tel Aviv area, the startup hub, nor do they serve in the army, the wellspring of engineers and programmers.
Which is part of the reason Wertheimer now targets the 200,000 Bedouin of the Negev. Students from that community have done even less well than Israel's other Arabs, according to a November report from the Ministry of Education, a sign that they'll likely miss the prosperity boost from the cyber-security hub the government is building in nearbyBeersheba.
One issue has been the Bedouins' strong desire to maintain their nomadic existence, many declining to live in cities. Wertheimer says that makes no difference to him.
"They stay with their religion, they get their pride," he said. "If they want to stay in a hut, they can stay in a hut. As long as they come to work at the right time."
(An earlier version of this story was corrected to remove reference to Druze running industrial park)
Before it's here, it's on the Bloomberg Terminal.
LEARN MORE