Israel Takes Aim at `Bin Laden Meets Zuckerberg' Amid Violence
by and
Government drafting team to fight social media incitement

War on terrorism includes battling calls to violence: Hotovely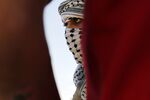 A cartoon of an Arab wielding a bloody meat cleaver above the prone body of a religious Jew. How-to videos demonstrating best practices for stabbing Israelis, complete with a final twist of the knife. A video of a Gaza Strip preacher exhorting West Bank Muslims to slaughter Jews.
The latest outbreak of Arab attacks on Israelis is being shaped as never before by social media and its power over young Palestinians. With more than 20 people killed and over 235 wounded on the Israeli side in the past two months, Israel's Foreign Ministry is drafting Arabic speakers and computer programmers to join the fight against posts the government says is driving the bloodshed. 

"It's clear to all of us that the youths who go out to stab and kill Jews were influenced by incitement videos that clearly call for the murder and maiming of Jews," Deputy Foreign Minister Tzipi Hotovely said on Army Radio on Sunday.
The Foreign Ministry's effort to develop software to identify problematic posts illustrates the difficulty Israel has containing calls for violence against its citizens, despite its dedication of special police and army efforts to do so. Israelis and Palestinians have long accused each other of incitement, but social media have made inflammatory material far easier to publish and consume.
Jewish incitement is also on the rise, though none of the Palestinian deaths has been attributed to Israeli civilians initiating an attack. Most of the more than 100 Palestinians who have died have been assailants or killed in clashes with Israeli troops. The violence has surged more than a year and a half since peacemaking last collapsed, and has been fueled in part by a religious clash.
'Lone Wolves'
While past waves of Palestinian assaults have been orchestrated by militant groups, Israeli officials say the latest unrest, which erupted 18 months after the last round of peace talks broke down, largely seems to be the work of "lone wolves" egged on by what they're exposed to on their mobile devices, televisions and radios.
About 40 percent of Palestinians in the West Bank, east Jerusalem and Gaza Strip use Facebook; more than two-thirds of them are under 18, according to Mamoun Matar, a Palestinian lecturer on social media at Bir Zeit University near Ramallah, West Bank.
Social media, with its ability to transfer information at top speed, "has had a huge impact on Palestinians in the past two years, especially the youth," Matar said. "Unfortunately, there is no monitoring of social media in Palestine. And what the kids see on Facebook stirs up anger and frustration, which leads to all these individual attacks."
Tough Spectacle
Shadi, a 15-year-old Palestinian from Jerusalem, said he's on Facebook all the time to keep up to date on the conflict. "I support all the attacks, that's the only way we can get our rights," he said.
Rami, a 16-year-old Palestinian from Jerusalem, said he's stopped using Facebook as much since the clashes began. "The videos and pictures of the people who have been killed make me sick," he said. "Facebook should be used as a fun tool." Both teenagers declined to give their last names for security reasons.
With Palestinians no closer to a state than they were when peace talks began a quarter of a century ago, despair and frustration have grown, said Ghanem Nuseibeh, founder of the Cornerstone Global Associates consultancy based in London. Others, such as Mordechai Kedar, a professor in the Arabic department at Bar-Ilan University near Tel Aviv, see the violence as part of an Islamic holy war against Jews living on land sacred to Muslims.
"It's not because we're Israelis, it's because we are Jews," said Kedar. "The whole thing is about religion."
Some of the violence has been fueled by contesting claims to a Jerusalem shrine known to Jews as Temple Mount and to Muslims as the al-Aqsa mosque compound. Israeli Prime Minister Benjamin Netanyahu has described the nexus of the Internet and Islamist terrorism as "Osama bin Laden meets Mark Zuckerberg."
Israeli Incitement
Online incitement by Israelis against Arabs has also been increasing, according to Anat Ben-David, an assistant professor in the department of sociology, political science and communication at The Open University. People bent on incitement find ways to circumvent social media companies' restrictions on hate speech, such as posting pictures of signs reading "Death to Arabs," she said.
One Israeli woman posted a picture of her palm inscribed with the slogan, "Hating Arabs isn't racism; it's values," Ben-David said. The photo gathered 20,000 "likes" before it was removed, she said. Images of Arab parliament members hung from gallows or the head of Arab Knesset member Ahmed Tibi being used as a football have also been posted, she said.
Analysts say it may be difficult to stop incitement on social networks.
Tough Challenge
"You can file a complaint only after the content has been out there," said Adam Hoffman, a researcher at the Institute for National Security Studies in Tel Aviv. "Maybe you can silence those videos but then a new account would come up and produce similar content within a few hours or in a day or so."
Facebook has taken down some incendiary videos and content. A class-action lawsuit filed in October in New York accuses Facebook of abetting violence against Jews and seeks to block content it considers inflammatory. Its lead plaintiff, Richard Lakin, died Oct. 27 of wounds sustained two weeks earlier in a shooting and stabbing attack on a bus.
Facebook said in response that the lawsuit is "without merit."
"There is no place for content encouraging violence, direct threats, terrorism or hate speech on Facebook," the company said in an e-mailed statement.
Before it's here, it's on the Bloomberg Terminal.
LEARN MORE