Five Charts Show Switzerland's Policy Pickle If ECB Acts
By
Swiss policy makers say franc still significantly overvalued

ECB weighing further policy easing, decision due Dec. 3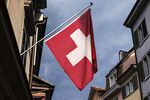 Thomas Jordan will be keeping a watchful eye on the goings-on in Frankfurt this week.
If the European Central Bank cuts its deposit rate as part of Mario Draghi's new stimulus push and the euro weakens, the Swiss National Bank president might have to respond to keep the franc in check.
While the SNB's next scheduled announcement isn't due until Dec. 10, there's nothing to stop it moving before then. Jordan has surprised markets before -- who can forget the bombshell announcement scrapping the currency cap at the start of the year?
One problem for Swiss policy makers is there aren't many appealing options left in their toolkit. Here's what the SNB is up against:
The currency
The franc has climbed 40 percent against the euro over the past decade, helping to keep inflation around zero (or below) in recent years. Even with negative rates and occasional interventions, the franc remains "significantly overvalued," Jordan told the Handelszeitung last week.

Interventions
When the SNB gave up its minimum exchange rate of 1.20 per euro in January, that was partly because the cost/benefit analysis of the measure didn't add up any more.
It has repeatedly pledged to intervene since then and foreign-currency reserves have increased 10 percent. Economists say the SNB may grow increasingly skittish about taking on more risk. Even so, according to a Bloomberg survey, the central bank has about 165 billion francs ($160 billion) of leeway for interventions before its readiness to act gets thrown into question.

Interest rates
The deposit rate is already at a record low of minus 0.75 percent and policy makers want to maintain the interest rate differential with the euro area -- typically measured by the difference in yields between Swiss and German government bonds.

A cut in the ECB's deposit rate would narrow that spread again, and SNB officials might feel the need to reestablish the balance with a reduction of their own. Switzerland's charge on sight deposits could go as low as minus 1.25 percent, according to a Bloomberg survey.

Lowering Switzerland's deposit rate further bears the risk of cash hoarding to avoid the charge. Another hurdle is that Swiss financial institutions -- notably private banks -- have already bitterly complained about the current rate level, and another cut would only stiffen their opposition.
Fed hike
For Jordan, the good news may come from Washington. U.S. Federal Reserve policy makers have said they will consider tightening policy at their next meeting on Dec. 16. The dollar touched a seven-month high versus the common currency last week in anticipation of the move and climbed to a five-year high against franc. That may remove some pressure for action, as the dollar is Switzerland's second-most important currency for foreign trade after the euro.