ECB Draghi's Deflation Antidote Is Beginning to Work: Analysis
While headwinds still need to be overcome
by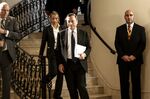 European Central Bank President Mario Draghi's pledge to pull out all stops to revive inflation may be the right prescription for euro-zone economy. Nascent signs of confidence are already visible in inflation markets, Bloomberg strategist Tanvir Sandhu writes.
Market-based inflation expectations, rising since last month on base effects and seasonalities, got a further nudge up after Draghi said on Nov. 20 the ECB "will do what we must to raise inflation as quickly as possible."
Some signs that the region's large output gap is narrowing have already emerged although it is a very long road ahead for return to full use of capacities, erasing of inventories and tightening of labor markets, in stark contrast to U.S.
Service inflation component of headline inflation is trying to pull away from troughs but remains sticky.
Manufacturing and services PMIs have been on an encouraging upward trajectory this year, which is also borne out by pickup in European Commission services confidence.
Bank lending to non-financial corporations as well as households grew strongly in Oct. M3, the broadest measure of money supply, too shows showed encouraging signs.

Data published on Nov. 27 showed euro-area economic confidence matched its highest level in more than four years.
Evolving Optimism
Inflation markets too are reflecting the state of the economy.
The cost of insurance to protect against inflation going above ECB's 2 percent target has recently edged higher, and is now above the record low hit in December 2014. However, it's still below historic levels.
The premium demanded to bet inflation will rise above 2.5 percent in 10 years has risen to 104 basis points from October low of 65 basis points. It reached 27 basis points on December 17 2014 amid deflationary fears.

Hedge funds and corporate accounts use such option instruments in structured products to protect against quickening inflation. Higher cost indicates that inflation expectations have grown.
EUR 5y5y forward inflation swap is at 1.76 percent, compared with this year's low of 1.48 percent touched in January.
Markets may need to see actual realized inflation before generating a convincing upward trend, given Japan's unsuccessful attempts to revive inflation.
Uptick in realized inflation has helped long-term inflation move higher recently.
Oil Base Effect 
Brent crude prices are now near the six-year low touched in January.
Realized inflation will likely get a leg up over the next few mos. due to base effect from the steep declines of oil in fourth quarter of 2014, but that should be no surprise.
Recent decoupling of EUR 5y5y inflation swap from energy prices may not last as realized inflation is highly correlated with commodities.
NOTE: Market-based measures incorporate inflation risk premia and liquidity distortions; however, they shouldn't be ignored
ECB Survey, Headwinds
ECB's own survey shows some confidence of medium-term inflation rising.
Third-quarter ECB Survey of Professional Forecasters shows inflation will reach 1.5 percent in two years, compared with 1.2 percent estimated in March.
Draghi's efforts to revive inflation still face headwinds from stagnant wage growth given the large demand slack amid subdued GDP growth, as well as the slump in commodity prices.
With aggressive expectations building for further monetary easing, a policy mistake could structurally push lower longer-term inflation expectations.
Note: Tanvir Sandhu is a cross-asset derivatives market strategist who writes for Bloomberg. The observations he makes are his own and are not intended as investment advice.
Before it's here, it's on the Bloomberg Terminal.
LEARN MORE