Cyber Monday Sales Slow as Web Shopping Spans Holiday Season
By
Lines blur with Black Friday as more people shop from couch

Top items include Nike shoes, Beats by Dre, Star Wars' R2-D2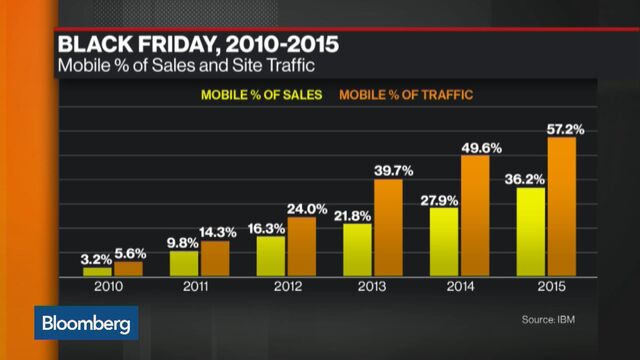 The pace of online spending slowed on Cyber Monday after consumers started their Internet shopping earlier over the weekend, turning to their smartphones to pick up deals, according to International Business Machines Corp.
Web-based sales climbed 18 percent Monday from a year earlier, after jumping 26 percent on Saturday and Sunday, IBM said in a final report early Tuesday. Still, Cyber Monday remains the biggest online spending day, with total outlays hitting a record $3 billion this year, according to Adobe Systems Inc.
Holiday purchasing patterns are shifting as more spending moves online and away from traditional stores. For most of the past decade, the Monday following Thanksgiving was the busiest day for Web shopping as U.S. consumers returned to work and used their offices' fast Internet connections to buy holiday gifts. But the rise of smartphones and speedier home Internet service has led consumers to snag online deals throughout the holiday weekend. Retailers -- traditional and electronic -- are now offering bargains earlier than ever.
Cyber Week
"Cyber Monday is becoming Cyber Week," said Marlene Morris Towns, a Georgetown University marketing professor who studies online shopping. "We'll see a less dramatic spike on Cyber Monday."
Still, retailers' revenue on Monday and the weekend showed an increase compared with 2014, when online sales grew 8.5 percent and 17 percent.
Some of the most popular items on weekend shopping lists included televisions from Samsung Electronics Co., Sony Corp. and LG Electronics Inc., as well as the Apple Watch and Beats by Dre headphones, according to IBM's Watson Trend app. Other popular choices are hoverboards, Nike Inc. running shoes, Activision Blizzard Inc.'s Skylanders video-game series and Star Wars R2-D2 droids.
Thanksgiving was the fastest-growing online shopping day, with sales rising 25 percent to a record $1.7 billion, according to Adobe. About 37 percent of Thanksgiving sales came from smartphones and tablets, up from 29 percent in 2014, according to Adobe. Online spending on Black Friday increased 14 percent from 2014.
Holiday Jump
"It certainly is becoming more like Cyber November because people are getting a jump on their holiday shopping much earlier year over year," Joanna Lambert, vice president of global consumer product and engineering at PayPal, said in an interview.
More than 103 million people shopped online over the four-day weekend, which started Thursday on Thanksgiving, according to an annual survey commissioned by the National Retail Federation. That compares with fewer than 102 million who ventured into traditional stores, the trade group said.
Smartphones were the preferred method of online purchases on Cyber Monday, according to IBM, driving 15 percent of Internet sales, up about 70 percent from last year. That compares with 12.4 percent of buys made on tablets. But the value of merchandise was higher for purchases made on desktops, with the average order hitting $128, followed by tablets at $124.14 and smartphone buys averaging $102.02 per order, according to IBM.