business
China Demise Threatens Copper's 11-Year Support Level: Analysis
A look at some very long term trends
By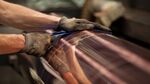 Copper prices look certain for a monthly close below the 200-month moving-average (MMA) for the first time since the commodity super-cycle began in 2003, on evidence that Chinese demand continues to fall, writes Bloomberg strategist Mark Cudmore.
Copper closed above the 200-MMA in Dec. 2003 and has held above it on a monthly closing basis ever since. While it did test below in 2008, 2009 and again over each of the last 3 months, on every occasion the metal rallied hard at month-end to achieve a successful close.

But this time, a recovery appears highly unlikely. Copper's 3-month rolling forward contract on the London Metals Exchange, currently trading at 4573, needs to rally over 10 percent today to finish above the 200-MMA, at ~5055, to avoid a long-term bearish technical signal. However, some analysts say it is the 233-MMA, linked to the Fibonacci number 233 and currently at ~4609, that may be the more important support to watch; that level is still very much in play today.
Recent Chinese data has not been bullish for copper: demand for use in electrical appliances, such as refrigerators and washing machines, fell 4.6 percent y/y in October. China is now fighting back, as authorities are said to be considering state purchases to support metal prices as well as possibly intervening to limit futures short-selling. Weekend reports state that major Chinese copper smelters have proposed output cuts for 2016, but the final decision on quantity of cuts has not yet been made.
Rio Tinto, the world's second biggest miner, recently said they anticipate two more years of pain for copper, although they remain long-term bullish for the metal.
Note: Mark Cudmore is an EM strategist who writes for Bloomberg. The observations he makes are his own and are not intended as investment advice.
Before it's here, it's on the Bloomberg Terminal.
LEARN MORE