BTG Declines as Firm Separates From Jailed Founder Esteves
By , , and
Billionaire Andre Esteves gives up all of his posts at company

Partners seek to buy ex-chairman's stake as arrest is extended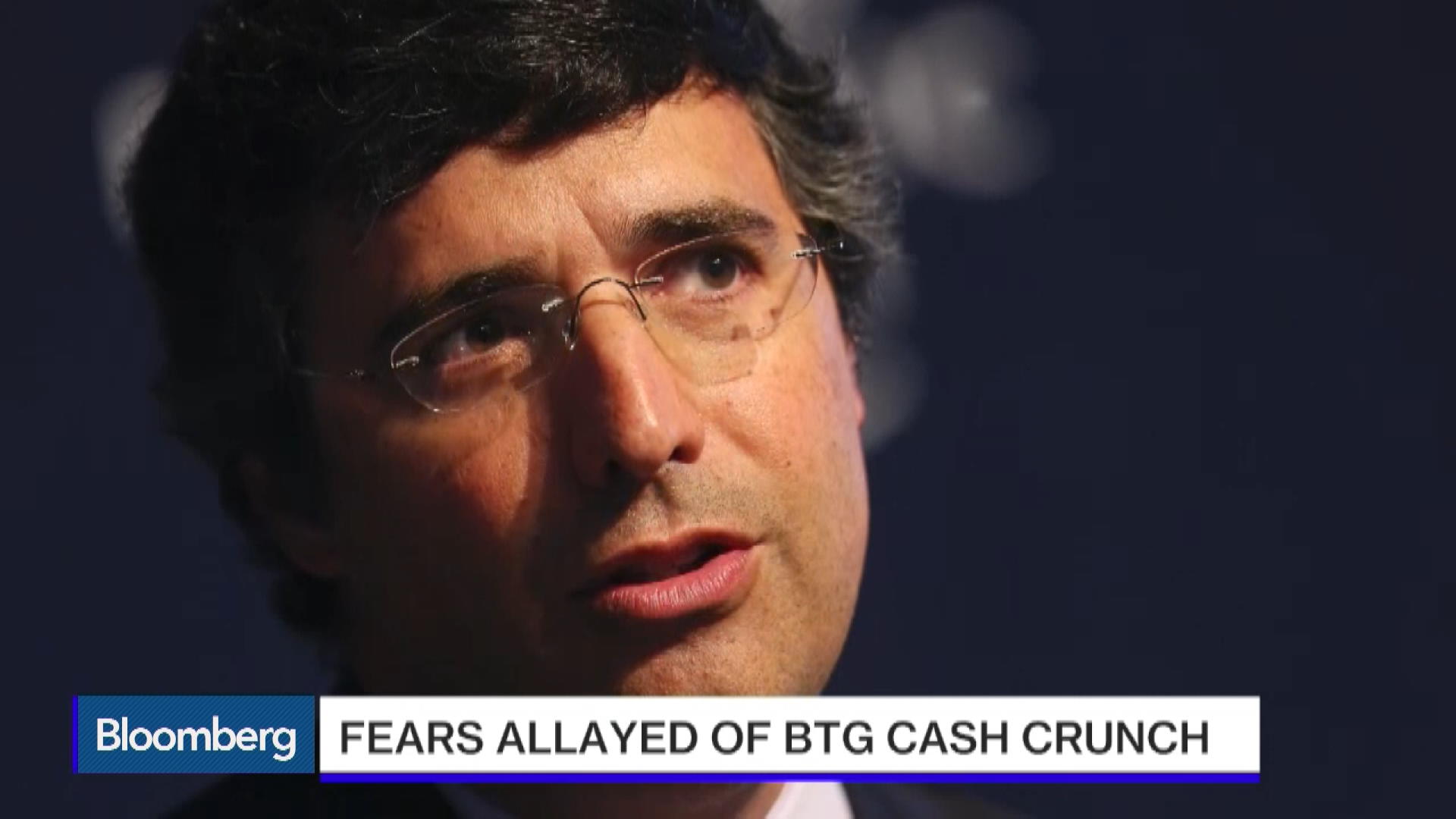 Grupo BTG Pactual SA plunged Monday after Brazilian billionaire Andre Esteves was jailed indefinitely and resigned all of his posts at the firm he helped build. The bank's leaders spent the weekend in emergency talks to sell assets and acquire his controlling stake.
QuickTake Brazil's Highs and Lows

Shares tumbled as much as 14 percent in Sao Paulo, extending the drop since Esteves was arrested to 35 percent. Yields on the bank's $1 billion in bonds due 2020, its most liquid dollar-denominated notes, rose 0.9 percentage point to 12.63 percent as of 2:21 p.m. local time, the highest since they were issued in January 2013. The notes dropped 2.3 cents to 72.92 cents on the dollar.

Roberto Sallouti and Marcelo Kalim, both partners at the firm, will take over as co-chief executive officers, the company said late Sunday. Persio Arida, who was named interim CEO when Esteves was arrested in a corruption probe last week, will become chairman. Huw Jenkins, a partner who is also a member of the company's board, will serve as vice chairman.
BTG is racing to calm investors after Esteves's arrest on Nov. 25 sent the shares down 21 percent that day, doubled yields on the lender's benchmark bonds and prompted clients to pull 4.2 billion reais ($1.1 billion) from some of its most liquid fixed-income funds in two days. Esteves, 47, who built the firm into Latin America's largest independent investment bank and served as both chairman and CEO, lost a bid for freedom over the weekend as his lawyers denied allegations he sought to interfere with testimony in a corruption probe.
'Grave Offense'
The Supreme Court extended his detention, initially set for five days, to an undetermined amount of time. Public prosecutor Rodrigo Janot said he requested the extension, based on items seized last week and depositions given by those under investigation. In an e-mailed note, Janot's office said it sees "an extremely grave offense" in Esteves's conduct.
In a letter sent to clients on Friday, Arida said the bank was on solid footing and not part of any investigation.
Esteves is being held on suspicion that he tried to interfere with testimony of a former executive of Petroleo Brasileiro SA who was jailed in January under paid-bribes allegations. BTG's appointment of new leaders wasn't prompted by a belief that Esteves engaged in wrongdoing, but instead by a need to navigate the turmoil set off by his arrest, according to a person close to the deliberations.
Controlling Stake
Esteves has long been synonymous with the firm, guiding it through rapid growth and famously joking that its name stands for "better than Goldman." His success and personality gave him stature far beyond its home market.
"The risk to the firm is that Andre Esteves is the firm," Mark Williams, author of "Uncontrolled Risk," a book on the rise and collapse of Lehman Brothers Holdings Inc., said after Esteves's arrest last week. "The company is built around him."
The firm's partners, seeking to insulate the bank from his travails and stem fund withdrawals, are trying to work out terms to buy his controlling stake, a person with knowledge of the matter said Sunday, asking not to be identified because discussions are private. The talks are continuing and no agreement has been reached.
Selling Assets
As part of a push to boost cash, the bank is looking to sell its remaining 12 percent stake in hospital chain Rede D'Or Sao Luiz SA, two people with knowledge of the matter said late last week. The most likely buyer is Singapore sovereign-wealth fund GIC Pte, a person with knowledge of the matter said on Sunday.
BTG declined to comment on the bank's next steps, asset sales or fund withdrawals. Representatives of Rede D'Or and GIC declined to comment. It may take days for a deal to be hashed out, one person said.
The group is also mulling options for its commodities business including bringing in external investors to bolster funds, according to people with knowledge of the plan. It's considering whether to spin the commodities arm into a separate entity, one of the people said, asking not to be identified because the details are private. The board has made no final decision on the strategy.
Regulatory filings this year show Esteves owns a 22 percent to 24 percent stake in the bank. The company had a total stock-market value of about 21.4 billion reais on Friday. His holding also includes a so-called golden share at BTG that gives him effective control of the firm, one person said. Asked about talks to sell the stake, Esteves's lawyer directed questions to BTG, which declined to comment.
Great Uncertainty
The withdrawals from BTG's fixed-income funds on Nov. 25 and 26, which can be seen in the latest available data on the securities regulator's website, represent about a third of the combined net assets of the 10 fixed-income funds listed on the bank's website.
"It's not good for sentiment, and there is a great amount of uncertainty toward what could be the repercussions on the bank, for its CEO and business," Patrik Kauffmann, who helps manage $11.2 billion of assets at Solitaire Aquila including BTG bonds, said from Zurich last week.
About 45 percent of BTG's adjusted revenue came from the bank's sales-and-trading business in the first nine months of this year, dwarfing the 4 percent from investment banking, 13 percent from corporate lending and 22 percent from asset management and wealth management, according to the company's third-quarter financial report earlier this month. The firm's principal investments lost 405 million reais in the nine-month period, up from losses of 353 million reais in the same period a year earlier, according to the statements.
"Investors want to see if the bank itself will be implicated in any investigation and what could that mean for the bank's future business prospects as well as for the confirmation, or not, of confidence that their accounts show," Rafael Elias, head of emerging-market strategy at Cantor Fitzgerald, said in an e-mailed response to questions. "What I can say with some degree of confidence is that if the bank gets more negative headlines, each will likely translate into a hit to bond and shares prices."
Concerns about funding and liquidity prompted Moody's Investors Service and Fitch Ratings to say they were reviewing the bank's credit rating for a possible downgrade. BTG funds about 23 percent of its balance sheet with equity and long-term debt, according to the firm's financial statements, leaving the rest vulnerable to an increase in borrowing costs or an erosion of confidence among the bank's creditors, depositors and trading counterparties.
"Fitch acknowledges the importance of Mr. Esteves as an active and charismatic CEO who oversees the operations and expansion of the bank, bringing uncertainty about an uneventful succession, if it should be required," Fitch wrote in a note on Thursday.