As Puerto Rico Crisis Worsens, Congress Shows No Rush to Assist
By
Grassley says no bill until he analyzes Puerto Rico situation

Island's governor says move to avert default `unsustainable'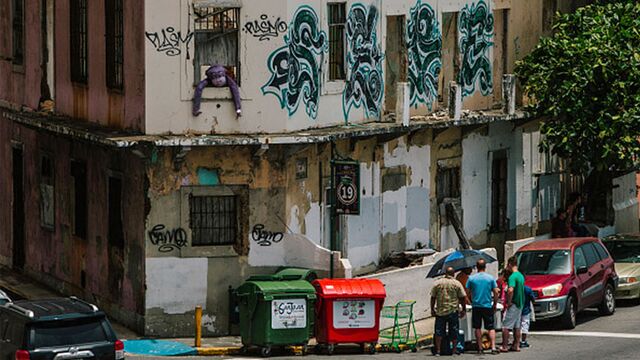 U.S. lawmakers gave little indication that they will soon act to rescue Puerto Rico from its fiscal crisis as Governor Alejandro Garcia Padilla urged them to give the island power to file for bankruptcy so it can restructure its $70 billion in debt.
Senator Chuck Grassley, the chairman of the judiciary committee, said the island's strains are the result of years of fiscal mismanagement that wouldn't be fixed with bankruptcy. He said no bill is imminent to assist Puerto Rico, which narrowly averted defaulting on bond payments due Tuesday.
"We will wait until we review all this information we're getting here," Grassley said in an interview after the hearing.
The lack of agreement in Congress has left the U.S. largely on the sidelines during the island's escalating crisis, which was brought about by years of borrowing to pay its bills. Puerto Rico is swiftly running out of cash and plans to push bondholders to accept less than they're owed, a step that would be the largest restructuring ever in the $3.7 trillion municipal market.

The hearing was the fifth in Congress this year focused on Puerto Rico's finances. Lawmakers didn't act on any legislation.
Puerto Rico officials and Democrats have backed a measure to extend municipal bankruptcy protections to the Caribbean commonwealth, which would allow some of its agencies to file for bankruptcy in U.S. court, just as cities can. They've also sought to increase the island's funding for federal health-care programs, which would ease some of the pressure on its government.
Garcia Padilla urged Congress to come to the rescue as the island diverted money earmarked for some securities in order to make payments due on other debt. He said such maneuvers to avoid a default are "unsustainable."
"I renew my request for immediate action," Garcia Padilla told lawmakers. "We have never asked Congress for a bailout, and we are not seeking one today."
Fixing Root Cause
Despite the building pressure on the island, the bankruptcy bills have stalled for lack of Republican support. Key Republicans have yet to put forward their own measures.
"Chapter 9 cannot bring about financial rehabilitation. It does not increase economic growth or alter the fundamental fiscal trajectory," Grassley said at the hearing. "In short, Chapter 9 cannot address the root causes of fiscal problems, but instead pushes them off to future generations."
Grassley cited the federal minimum wage, generous entitlement programs, "bureaucratic red tape, and a bloated public sector" among the reasons that stalled the island's economy and encouraged increasing number of Puerto Ricans to leave in search of jobs.
Senator Orrin Hatch, the Republican who chairs the finance committee, said Monday that lawmakers should be cautious about the bankruptcy proposal and that Congress needs precise estimates of how much aid is needed before it can decide whether to help.
At the hearing Tuesday, Senator Dick Durbin, an Illinois Democrat, said it will be difficult to forge an agreement to aid the commonwealth with financial assistance or other measures.
"What if we just came in there and rescued Puerto Rico? I don't think that's going to happen," he said. "It will be a painful process here on Capitol Hill."