Photographer: Tomohiro Ohsumi/Bloomberg
The World's Largest Elevator Market Is Falling and May Never Recover
by
Peak of 600,000 China elevator sales may never be seen again

Otis will boost engineers in Japan by about 50 percent
The world's biggest elevator maker said China's best days may be behind it.
After peaking at 600,000 units last year, sales in China may drop to about 500,000 next year amid a surplus of apartments and slowdown of people moving to big cities, Otis Elevator Co. President Philippe Delpech, who heads the world's largest maker of elevators, said in an interview in Tokyo this month. After that, the market in China, where more than two-thirds of elevators are sold, may stabilize, he said.

So when will demand bounce back?
"It could be never," Delpech said. "We will have to adjust the output of the factories to the market. You will have a consolidation in the market and some small companies will disappear."
As the country heads for its slowest economic growth in a quarter century, the maker of the elevators that lift tourists atop the Eiffel Tower or Empire State Building is among the growing number of companies searching for solutions to cope with a slumping China. For its part, Otis said it's investing in Japan, where it developed the double-decker elevator used in the tallest building on the planet to come up with more sophisticated models.
"The largest threat facing elevator makers is a slowdown in Chinese demand," said Johnson Imode and Mustafa Okur, analysts at Bloomberg Intelligence. Real estate investment remains on a downward trend in China and is increasingly dependent on government stimulus, according to a BI report this month.
Though Otis isn't listed, it accounts for about 20 percent of sales at its parent, United Technologies Corp., which is. Shares of United Technologies have fallen 15 percent on the New York Stock Exchange, last closing at $97.27.
In Japan, Otis plans to add about 20 engineers to its team of 35 to 40 in Shibayama, east of Tokyo, to develop cutting-edge elevators with sensors and remote monitoring that whisk guests to their hotel room floors simply by reading signals from their mobile phone, he said.

As for China, the company will need to cope with the new reality that the heydays may be over. Chinese buildings had been leap frogging each other for the title of the country's tallest building over the past two decades. The 88-story Jin Mao Tower was the highest building when it was completed in 1999, only to be overtaken by the Shanghai World Financial Center in 2008. That was beaten by the Shanghai Tower earlier this year.
"It's like when they built New York up over 20 to 30 years. They delivered more elevators than they will ever deliver again," Delpech said. "It's kind of that type of construction."
Watch Next: Riding the Future of the Smart Elevator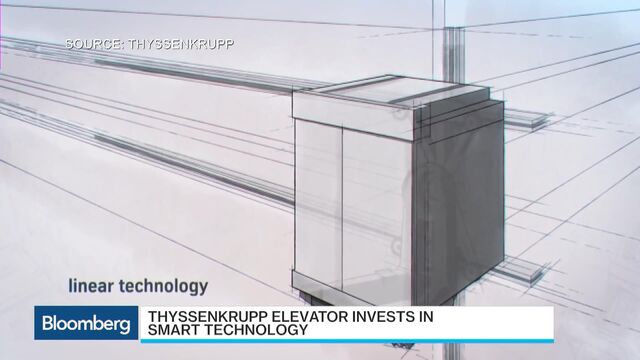 Before it's here, it's on the Bloomberg Terminal.
LEARN MORE