business
Putin, Obama Discuss Syria as Paris Hosts Anti-Terror Allies
By and
In meeting, Obama and Putin don't advance anti-terror alliance

Russian leader says soured Turkish ties is `shame for us all'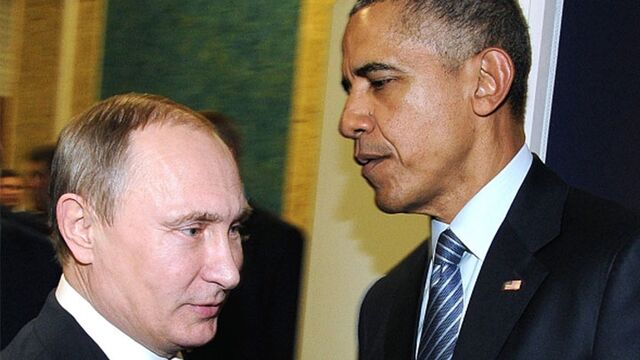 Russian President Vladimir Putin talked up his understanding with U.S. counterpart Barack Obama on Monday while giving Turkish leader Recep Tayyip Erdogan the cold shoulder, underlining the difficulties of building a common front against terrorism.
The resolve to unite will be further tested as NATO foreign ministers meet on Tuesday. The Brussels-based military alliance this week backed Turkey's version of events leading to the Nov. 24 downing of a Russian warplane and said it would further upgrade Turkey's air defenses.

This week's mega-summit on climate in Paris, in the wake of the French terror attacks, was grounds for world leaders to show how serious they are about putting aside ideological differences, personal animosities and recent grievances. Instead, the tension escalated, with Erdogan demanding Putin resign unless he can prove his claim that Turkey buys oil from Islamic State.
"As soon as such a thing is proved, I will not stay in my current position because that's what our nation's dignity requires of me," Erdogan told Turkey's state-run news agency Anadolu in Paris. "But I'm going to ask Putin: Will you stay in that position? I'm saying this very clearly."
Putin painted a rosy picture of his huddle with Obama as he laid into Erdogan after Turkey shot down a Russian jet near the border with Syria. The White House offered a more measured assessment of the talks.
An Understanding?
Putin said his 30-minute meeting with Obama resulted in "an understanding of where we should move" with regards to a political resolution in Syria and the need for a list of terrorist targets. Ben Rhodes, Obama's deputy national security adviser, countered that the president stressed how Syrian leader Bashar al-Assad, a Russian ally, cannot stay in power and that Russian aerial attacks are still targeting legitimate opposition members.
With the U.S. and Russia paying lip service to the need to work together, Putin was unequivocal about the chances of collaboration with Turkey.
"This bomber was shot down by Turkey's military, what kind of broad coalition can we talk about?'' Putin said in Paris, where Erdogan had asked the Kremlin for a one-on-one meeting. The deterioration of ties with Turkey is "a shame for us all" and "a great pity for me personally, because I've done a lot to develop these relations."
Hollande's Travels
French President Francois Hollande last week jetted between Moscow and Washington in a bid to ratchet up support for a grand coalition against Islamic State after 130 civilians were killed in attacks in Paris. As more than 140 world leaders converged on the French capital, he was hoping as host to convert many sympathetic pledges of cooperation into success on the battlefield.
That is proving to be problematic following Turkey's actions, the most serious clash between Russia and a North Atlantic Treaty Organization member since the Cold War.
Showing his allegiance, Obama met with Erdogan on Tuesday. The U.S. pointedly corroborated Turkey's version that the Russian plane was downed after it ignored multiple warnings about violating its airspace.
When Erdogan suggested that he may meet with Putin in Paris, Kremlin spokesman Dmitry Peskov told reporters on Monday that a meeting wasn't on the schedule. Turkish Prime Minister Ahmet Davutoglu said this week that "no country can ask us to apologize because of doing our job."
— With assistance by Onur Ant, Ian Wishart, Patrick Donahue, Alexei Anishchuk, Justin Sink, Gregory Viscusi, Helene Fouquet, James G Neuger, Flavia Krause-Jackson, Sarah McGregor, and Mike Dorning
Before it's here, it's on the Bloomberg Terminal.
LEARN MORE