technology
Meet the Everyday People Transforming China's Economy
Bloomberg News
Online services are boosting incomes, spending and employment

Online-to-offline 'will change the Chinese economy completely'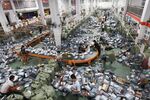 China's best shot at avoiding an economic hard landing may come down to people like Li Chao, a onetime hireling in the Beijing government's power-supply company who now works for himself.
Li quit his former job in 2011 to sell upmarket Ugg lambs wool slippers and boots. He struggled initially to move the 50,000 yuan ($7,800) worth of goods he forked out for, selling just three or four pairs a month.
Then he rode the growth of WeChat, the now-ubiquitous social messaging service in China, and business took off. Earlier this month he sold more than 200 pairs on Singles' Day, the online shopping bonanza championed by Alibaba Group Holding Ltd. founder Jack Ma.
Li, 28, is earning 10 times what he did at the state-owned power distributor, adding in his earnings from driving jobs that he gets via car-hailing app Didi Kuaidi. "Who hates money?" he says. "I always do whatever makes the most money."
China's ranks of self-employed helped propel a 30 million surge in people working in the private sector last year compared with 2013, the most recent government data show. Those forging new lives as entrepreneurs are boots on the ground of China's great shift toward services and consumption-led growth. And they are proving vital to offsetting the pain from sluggish exports and heavy industries, and the weakest pace of investment growth since 2000.
'Turning Point'
"In 10 years we will look back and see the spread of the Internet and sharing economy as a turning point," says James Laurenceson, deputy director of the Australia-China Relations Institute at the University of Technology in Sydney. "It is the antithesis of China's old economy. It facilitates consumption rather than fixed-asset investment. It promotes services rather than construction and industrial production."
A key question is whether the rise of the sharing economy -- where goods and services are bought, sold or borrowed on peer-to-peer platforms like airbnb.com or WeChat -- will help catalyze a broader transformation. The hope is such tools infuse greater competitiveness into services industries including banking and telecommunications that remain dominated by state monopolies.
The nascent online-to-offline industry -- or the offering of services via the Internet that are then executed offline -- has shaken up the nation's taxi industry via companies like Uber and Didi, and is making inroads into travel via Airbnb Inc. clone Tujia.
"It's already having a lot of impact on the economy," said Larry Hu, head of China economics at Macquarie Securities Ltd. in Hong Kong. "Although the economy is bad, unemployment is OK, and wage growth is fine I think because of the service sector. O2O tends to be very labor intensive for deliveries and things like that."
Singles' Day
The scale of the manpower online commerce employs was underscored by the annual Nov. 11 Singles' Day promotion shopping event. Online platform Alibabaestimated that 1.7 million deliverymen, 400,000 vehicles and 200 airplanes would be deployed to handle packages holding everything from iPhones to underwear that were sold. Mobile devices accounted for 69 percent of transactions and sales surged 60 percent from a year earlier to hit a record 91.2 billion yuan, it said.
Critics question the sustainability of some O2O businesses. Uber China and Didi have raised billions of dollars from investors by pitching rapid expansion in China and then spent heavily on subsidies for drivers and consumers to build market share.
"It is leveraging cheap finance to buy business from the real economy," said Shanghai-based Andy Xie, a former Morgan Stanley chief Asia economist who is now an independent analyst. "We don't have to wait long for this scam to be exposed."
Regulatory Risks
There are regulatory risks, too. China's transport ministry in October said it plans to ban the use of private cars in taxi-hailing services, in part to protect consumers and combat what it says is unfair competition for taxis. The operators use subsidies to gain market share, "disrupting the normal market order and affecting the taxi industry and social stability," a ministry statement said.
Undeterred, Peng Guihua, a 45-year-old Guangzhou native who'd driven a cab in the southern Chinese city for 13 years, bought a new mocha-colored Nissan Sylphy a month ago and switched to driving for Uber.
"Besides making more money driving Uber, the freedom is the most important to me," he said, driving with provisional license plates as he's still waiting for permanent ones. He made about 9,000 yuan in his first month as an Uber driver -- more than double what he cleared in his old role -- giving him more money to spend on his 15-year-old son.
Xue Jiaxin, a 27-year-old beautician and masseuse from Jiangsu province who works in Beijing, is also earning more and working less. At her old job at a beauty salon, she worked 15-hour days, 27 days per month. Switching to mobile platform Helijia in August, customers now find her, cutting her work time down to about 4 hours a day. 
"I had to stay at the salon whether I had customers or not, and I took only 20 yuan out each 100 that I made," she said. "Now, I may make only 50 yuan, but all of it is mine."
Productivity Boost
Replicated millions of times across China's hundreds of cities in all manner of service industries, the kind of time savings Xue is reaping stands to revolutionize productivity in what has traditionally been one of the most backward areas of China's economy.
"This kind of O2O sharing economy will play an important role in this economic and social transition," Macquarie's Hu said. "It's difficult to disentangle the impact with other things, but put together they will change the Chinese economy completely in the next five to 10 years."
It's a shift Premier Li Keqiang is betting heavily on. Recognizing China has become too big to rely on shipping cheap goods to the rest of the world to drive growth, he's trying to stoke domestic consumption and services businesses to keep the nation's expansion rate at a pace that'll bring moderate prosperity by 2020.
Carrie Li is already moderately prosperous, owning a company that imports wines from Australia and tapping the power of U.S.-based Airbnb. For her, the sharing economy offers a way to meet new people and milk some extra cash from the three-bedroom apartment she shares with her husband and daughter on the southern bank of the Pearl River in downtown Guangzhou.
The 35-year-old Li started renting two rooms of her apartment -- one for 268 yuan and another at 299 yuan per night -- on airbnb.com in October. She has accepted three groups of guests so far: the first an American with his girlfriend, the second a Chinese man studying in Australia and the third a family of three from Qingdao city.
"If I keep doing this and do it well, I can make a few thousand yuan a month," she said, adding she may also sell her Australian wines to guests. "It's like having an extra job. The sharing economy is a good thing from all aspects, it has improved my quality of life."
— With assistance by Xiaoqing Pi, Tian Chen, Kevin Hamlin, and Alexandra Ho
Before it's here, it's on the Bloomberg Terminal.
LEARN MORE