Photographer: Philippe Lopez/AFP/Getty Images
Christie's Hong Kong Art Auction Feels China's Economic Chill
by
Christie's Asian 20th century and contemporary art market soft

Hong Kong sales dwarfed by Chinese purchases in New York
China's economic slowdown, government anti-corruption measures and fleeing speculators are causing a chill in the Hong Kong art auction market, Christie's Nov. 28 International Hong Kong evening sale showed.
The London-based auction house sold HK$507.9 million ($66 million) worth of art at its Asian 20th Century and Contemporary auction, compared with HK$636 million at a similar event a year ago, and HK$935 million in November 2013. Saturday's sale is the marquee event of Christie's six-day Hong Kong autumn auction marathon.
"It's softer this season for sure," said Hong Kong-based adviser Jehan Chu, who runs Vermillion Art Collections. "There is uncertainty, especially over the economic and political outlook in China, that has made people skittish."
The slowdown could also reflect a shift in buying patterns by wealthy Chinese clients who are spending larger sums in New York and Europe as they embrace more western works. For example, Chinese billionaire Liu Yiqian paid $170.4 million for Amedeo Modigliani's reclining nude woman, at Christie's New York on Nov. 10, almost three times the total of the Hong Kong evening sale.
Centurion Card
Liu, who flies around the world for free on the miles he earns by paying for his art with his American Express Centurion card, was in Hong Kong for the V.I.P. preview but has not yet decided whether to participate in this auction, his daughter Betty said. The autumn event kicked off with wine sales on Nov. 27 and runs to Dec. 2, when Chinese works of art and ceramics are auctioned. The entire sale, estimated to earn HK$3.1 billion, includes Asian art, jewelry, watches, wine, furniture, women's handbags and contemporary ink.
Francois Curiel, chairman for Asia Pacific at Christie's, says that the economic slowdown notwithstanding, results for jewelry sales in Geneva and modern art in New York this month show the resilience of Chinese buying power. "In Geneva and New York 31.8 percent of sales went to Asians, and a large proportion of that went to China," he said in advance of the Christie's Hong Kong autumn auction marathon.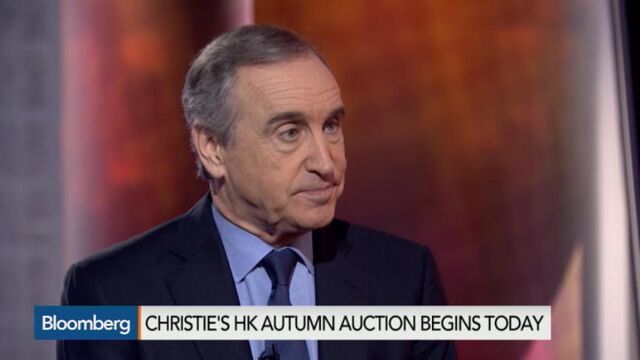 Those figures were boosted by two purchases by Hong Kong billionaire Joseph Lau, who set an auction record when he paid 48.6 million Swiss francs ($47 million) for a blue diamond in Geneva at Sotheby's on Nov. 11, a day after paying 28.7 million Swiss francs for a pink diamond at Christie's.
Vase of Chrysanthemums
The highlight of Christie's evening sale was a 20th century painting by Chinese artist Sanyu titled "Vase of Chrysanthemums on a Yellow Table" that sold to a telephone bidder for HK$46 million, more than triple its high auction estimate set by Christie's of HK$15 million.
Christie's also sold HK$71 million worth of wine on Nov. 27 and 28, where the top lot was a 12-bottle case of Domaine de la Romanée-Conti, Romanée-Conti 1988, Grand Cru, Côte de Nuits, which fetched HK$1.04 million.
Bordeaux Vineyards
The slowdown in demand from mainland clients for Christie's traditional sales categories has prompted it to look for other ways to appeal to new buyers. Its international real estate arm is also redoubling its efforts, and held a private seminar on Nov. 29 on buying vineyards in Bordeaux and Oregon.
One property it's flogging: a vineyard in the Entre Deux Mers region that produces 30,000 bottles a year for 689,000 euros($729,000), which is "the same price as a tiny Wan Chai apartment," said Lily Li, at Bordeaux broker Maxwell-Storrie-Baynes.
Christie's is also selling rare Stradivari and Guarneri del Gesu violins and a cello in Hong Kong for the first time in a selling exhibition -- where unlike an auction, the prices are determined in advance -- to tap into the mainland love of classical music. The instruments have a combined value of $65 million.
"Music is a good way of connecting with people and to connect with people who otherwise might not be connected," said Jonathan Stone, chairman of Asian Art at Christie's. "This is not about compensating for any perceived changes in other markets, it's very much an addition."
Before it's here, it's on the Bloomberg Terminal.
LEARN MORE