Foreign Investors Going Off the Beaten Path for Japan Stocks
by
Nomura arranged meetings between 25 companies and global funds

Investors want to find `smaller but interesting Japan stocks'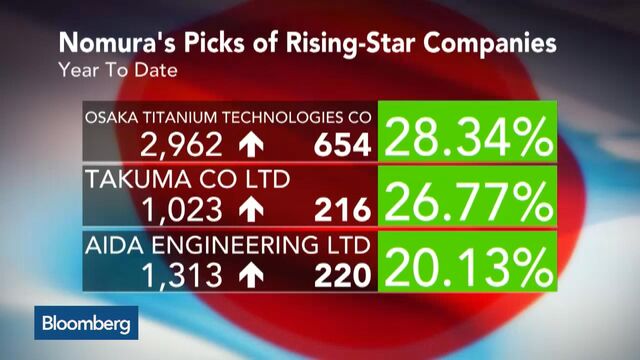 Foreigners who helped to fuel a three-year rally in Japanese stocks by investing in the most well-known companies are now looking off the beaten path for opportunities in the world's third-biggest equity market, according to Nomura Holdings Inc.
Nomura chose 25 companies that are "rising stars" to meet with global institutional investors in Tokyo this week, said Norikazu Akedo, a senior managing director at Japan's biggest brokerage. The companies, which range from Ishikawa-based drugstore chain Kusuri No Aoki Co. to Tochigi-based dental equipment maker Nakanishi Inc., were selected after investors asked to see executives from lesser-known firms with high growth potential, Akedo said.
Japanese stocks have weathered a cooling Chinese economy and the prospect of monetary tightening by the Federal Reserve to rank among the best performers in developed countries this year. Foreign investors who wrested increased openness from industrial giants like Fanuc Corp. are now casting their sights on smaller companies trading at lower valuations.
"Japanese equities look relatively attractive to global investors who are concerned about China's slowing economy and the rate hike in the U.S.," Akedo, 49, said in an interview. "They want to discover smaller but interesting Japan stocks."
Nomura arranged as many as 200 meetings to take place in Tokyo on Dec. 4 between overseas investors and top executives from the 25 firms, which operate in industries ranging from health care to environmental science, Akedo said. The gatherings are part of a five-day investment forum that starts Monday.
Whittled Down
The brokerage initially compiled a list of more than 100 small and mid-sized companies after investors expressed interest in them to its salespeople. It whittled down the number after considering the firms' scope to expand and transform their industry and the economy, said Shinji Wakizaka, head of client relations management at Nomura.
The 25 stocks, which also include Aichi-based Komehyo Co., Tokyo-based Euglena Co. and Osaka-based Iwatani Corp., have an average market value of about 100 billion yen ($815 million) and have climbed about 11 percent this year, compared with the benchmark Topix index's 12 percent advance, data compiled by Bloomberg show.
Share prices of 17 companies on the list closed higher on Monday in Tokyo, while eight fell. The Topix lost 0.9 percent.
The selected companies have average foreign ownership of 21 percent, according to data compiled by Bloomberg. That's less than the 32 percent for all of Japan's stocks in the year ended March 2015, Japan Exchange Group Inc. figures show.

Euglena is developing an algae as a nutritional supplement and is working on cultivating it for use as a bio jet fuel. Its shares have climbed more than 2,400 percent since its 2012 initial public offering.
The 25 companies were priced at a median 17.2 times earnings at the close of trading on Monday. The Topix Small Index, a gauge of smaller-capitalized companies, had a price-to-earnings ratio of 15.8 times, cheaper than the Nikkei 225 Stock Average's 20.6.
Global funds want to find out how Japanese businesses will boost profitability through acquisitions and return profits to shareholders, Akedo said. Companies from the Asian nation have been involved in mergers valued at $154 billion this year, up from $108 billion for all of 2014, according to data compiled by Bloomberg.
Friendly Fanuc
Fanuc is an example of a Japanese company that's grown more friendly to overseas investors. The Yamanashi-based maker of industrial robots said in April it would double its dividend payout ratio and buy back more stock following pressure from activist investor Daniel Loeb to share more of its cash with shareholders.
"Japanese companies used to be reluctant to talk to investors because they weren't so confident in their profitability and sometimes faced harsh questions," Akedo said. "Now they're ready to discuss their growth scenarios."
A record 650 overseas investors plan to attend the Nomura forum, according to Akedo, who is also joint head of global markets Japan. Top executives at 264 Japanese companies, including Shin-Etsu Chemical Co., Lixil Group Corp., Komatsu Ltd. and Nippon Telegraph & Telephone Corp., are scheduled to give presentations.
Before it's here, it's on the Bloomberg Terminal.
LEARN MORE