EU, Turkey Agree on Means to Stem Refugee Flow to Europe
by , , and
Turkish bid for EU membership to be restarted after long break

Turkey must show commitment to help refugees, Hollande says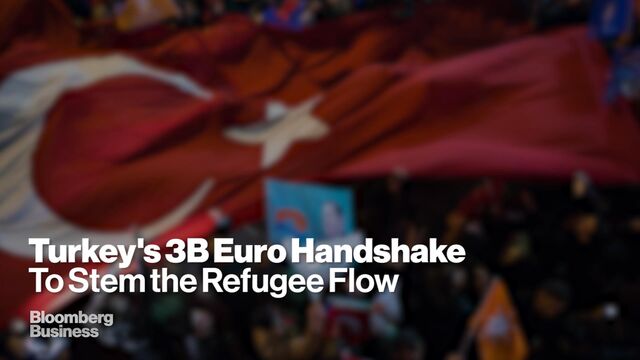 European Union leaders and Turkey agreed on measures to help stem the refugee crisis and counter terrorism, aided by an EU pledge to relaunch Turkey's membership bid and a package of 3 billion euros ($3.2 billion) in assistance for refugees.
QuickTake Europe's Refugee Crisis
EU government chiefs met with Turkish Prime Minister Ahmet Davutoglu in Brussels on Sunday as they attempted to present a united front and implore Turkey to help deal with the fallout from violence in Syria as well as turmoil in the rest of the Middle East. In return for Turkey bolstering its border controls, Europe is dangling rewards that could bring the nation closer to the EU than it's been for almost a decade.
"We expect a major step towards changing the rules of the game when it comes to stemming the migration flow that is coming to the EU via Turkey," EU President Donald Tusk told reporters at the conclusion of the summit. "Our agreement sets out a clear plan for the timely re-establishment of order at our shared frontier."
Shaken by the biggest influx of refugees since World War II and reeling from the Islamic State terrorist attacks in Paris earlier this month, the EU has turned to its southern neighbor for assistance in solving issues that have opened divisions across the bloc and raised questions about the sustainability of its border-free travel area.
Deepening Chaos
The deepening chaos in nations from Libya to Syria has spawned an unprecedented wave of people seeking shelter within the EU this year, with the majority of the 1.5 million people that illegally entered the bloc this year gaining access through Turkey, according to Tusk. While some leaders, such as German Chancellor Angela Merkel, have insisted Europe must honor its asylum commitments, others such as Hungary's Viktor Orban complained of the strain on their economies and communities.
The summit was just a first step in a longer process to achieve a plan to tackle the region's refugee crisis, Merkel said after the meeting. Earlier she met with seven other EU leaders to discuss a plan to resettle refugees from Turkey.
"This was a building block, certainly an important one, but of course a long way from being the only one," she told reporters
The EU used the summit to underline that it was prepared to give Turkey the 3 billion-euro aid package to help it deal with the estimated 2.2 million Syrian refugees on its territory but leaders still haven't agreed on the final sum or how much each nation will contribute.
Visa Liberalization
"We need to work on unity, but I'm confident that we can have a resolution on this issue," Merkel said.
EU-Turkey ties have frayed since Turkey started talks to enter in 2005, especially after President Recep Tayyip Erdogan's governments strayed from EU civil rights standards and the bloc's economic misery dimmed enthusiasm for further expansion beyond the current 28 nations.
The EU wants Turkey to take back migrants who entered an EU country irregularly when requested to do so, as part of a so-called readmission agreement. Turkey will agree to that only if the EU lifts the visa requirements it imposes on Turkish citizens in return, according to a Turkish government official attending the talks in Brussels, who asked not to be named, citing policy.
In their statement published at the end of the summit, leaders said the EU could lift visa requirements on Turkish citizens as early as October 2016 if the conditions are met.
Membership Bid
The EU and Turkey will "step up their active cooperation on migrants who are not in need of international protection," leaders said in their statement.
This will include working together to prevent migrants traveling to Turkey and the EU and "swiftly returning migrants who are not in need of international protection to their countries of origin," according to the statement.
In return, negotiations on Turkey's EU membership bid will restart as early as Dec. 14 by opening talks on economic and monetary issues. In a further concession to the Turkish leadership, the EU agreed to hold two summits with the country each year.
Some leaders issued a note of caution, signaling some reticence in their support for speeding up Turkey's EU membership bid and granting financial aid.
The EU membership process for Turkey has "been going on for years and there is no reason to accelerate or slow it," French President Francois Hollande said as he left the meeting. "As Turkey shows its commitments for refugees the money will be distributed."
Before it's here, it's on the Bloomberg Terminal.
LEARN MORE