Turkey's Prime Minister Criticizes Putin's Sanctions
by and
Davutoglu criticizes Russian sanctions after downing of jet

Putin signed measures including ban on hiring Turkey nationals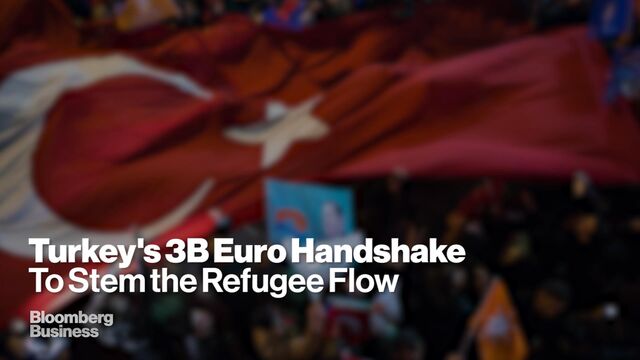 Prime Minister Ahmet Davutoglu criticized Russian economic sanctions on Turkey after the downing of a Russian fighter jet over the Syrian border last week, saying his priority was to defuse the tension and prevent similar incidents.
Russian President Vladimir Putin on Saturday announced measures against Turkey including the suspension of visa-free travel, halting tours to Turkey and a ban on the hiring of Turkish nationals. In Turkey, Deputy Prime Minister Mehmet Simsek chaired a meeting with other members of the nation's economic administration to discuss the potential impact, according to a government official, who asked not to be named in line with official policy.

"It's not just Turkey that has economic interests, Russia too has economic interests in relation to Turkey," Davutoglu said, according to the state-run Anadolu news agency. Turkey expects Russian officials to act in a cool-headed manner, he said.
'Separate Coalitions'
The downing of the jet by a Turkish F-16 warplane has overshadowed efforts to mount a united campaign against Islamic State militants after the Nov. 13 attacks in Paris. Putin described the incident as a stab in the back by Turkey, which has criticized Russia's decision to launch airstrikes in Syria to support President Bashar al-Assad.
Davutoglu, speaking before traveling to Brussels for talks with the European Union, said Turkey's priority was to keep open communications with Russia and to coordinate operations in Syria. The downing of the jet "clearly showed that air operations in same airspace by two separate coalitions of countries can always lead to similar incidents," he said.
Simsek, who was appointed head of Turkey's economic administration in a new cabinet on Nov. 24, will brief Davutoglu after the prime minister returns from meetings with NATO in Brussels on Monday, according to the Turkish official. Any response would be determined by Davutoglu after that briefing, the official said. Economic sanctions are mutually damaging as both nations benefit from trade ties, he said.
Putin-Erdogan Meeting
Turkey has sent a request for President Recep Tayyip Erdogan to meet with Putin on Nov. 30 during the climate summit in Paris, Dmitry Peskov, a spokesman for Putin, said Saturday in a televised interview. Russia hasn't replied yet, he said.
While it is still too early to quantify the impact of Russian sanctions on the Turkish economy, the effect could "clearly" be negative as Turkey stands to lose a major source of tourism revenue, said Apostolos Bantis, a credit analyst a Commerzbank AG in Dubai.
Turkey is the most popular foreign destination for Russians, with 3.3 million visiting in the first nine months of this year. They make up more than 10 percent of the tourists in Turkey, the second-highest number after Germany.
"We expect markets will react negatively and we'll see further volatility across all Turkish assets until there is further clarity on specific sanctioned entities and banned products," Bantis said.
Trade volume between Turkey and Russia was about $32 billion last year, with the balance heavily weighted in Russia's favor, according to data compiled by Bloomberg. Turkey's imports accounted for about $26 billion of that total, much of it natural gas.
The Turkish lira fell 3.3 percent against the dollar last week, the second-biggest decline in emerging-markets currencies after Brazil's real. The yield on the nation's two-year government bonds jumped 27 basis points over the same period, the most since August.
Before it's here, it's on the Bloomberg Terminal.
LEARN MORE