'Mockingjay' Tops Dinosaur, Rocky and Frankenstein at Box Office
Anousha Sakoui and Jodi Xu Klein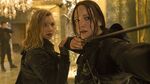 "The Hunger Games" finale retained its box office lead in North America, outdrawing three new releases including Pixar's second movie this year, a "Rocky" sequel and a fresh take on Frankenstein.
"Mockingjay Part 2," from Lions Gate Entertainment Corp., took in $51.6 million in U.S. and Canadian ticket sales from Friday through Sunday, Rentrak Corp. said in a statement. "The Good Dinosaur" from Walt Disney Co.'s Pixar landed in second with $39.2 million and "Creed," the new "Rocky" film from Warner Bros., was third with $30.1 million. "Victor Frankenstein" didn't make the top 10.
"Although Part 2 didn't open as high as Part 1, it is impressive that the movie led the second week despite a lot of competition this holiday weekend," said Paul Dergarabedian, senior media analyst at Rentrak. "Altogether, it's also a huge win for the 'Hunger Games' franchise as the total number is pushing $3 billion worldwide."
The final installment of the dystopian teen drama was forecast to place second with $50.5 million, according to Boxoffice.com. This weekend was only the second time that a Pixar film didn't debut atop the box office.
The weekend tally for "The Good Dinosaur" was one of the lowest openings for the Emeryville, California-based animation studio. It was originally set for release in 2014. The first director, Bob Peterson, was replaced in 2013 and the picture was delayed for additional work. "The Good Dinosaur" was expected to produce $54 million from Friday to Sunday, according to the estimate of BoxOffice.com.
Dave Hollis, executive vice president for theatrical distribution for Walt Disney Studios, said the film's opening weekend was in line with its expectations.
"With every release it is a little bit less about how we start and really more about how we finish," Hollis said in an interview. The opening has "set us up in a great way."
"Inside Out," Pixar's first movie that missed opening at No. 1, is now the second-biggest grossing release from that studio domestically, according to Box Office Mojo.
The industry researcher estimates $250 million for the full domestic theatrical run. That would put "The Good Dinosaur" in the top 20 for animated features, along with "Toy Story 2" and "Despicable Me," according to rankings from Box Office Mojo.
What If
The picture takes place in a world where the asteroid blamed for wiping out dinosaurs flies by Earth instead. Arlo, a young Apatosaurus, meets a human boy and they save each other from various perils.
"There's nothing too deep here, but the picture does warm the heart," Soren Andersen wrote in the Seattle Times.
"The Good Dinosaur" is the first full-length feature for director Peter Sohn, brought in to replace Peterson, and features the voices of Francis McDormand and Jeffrey Wright. The movie received 78 percent positive reviews, according to aggregator Rottentomatoes.com.
"Creed," from Time Warner Inc.'s film division, beat the $26 million forecast by Boxoffice.com. The film is a spinoff of the "Rocky" series and features Sylvester Stallone reprising the role that made him famous. It cost $35 million to make, according to Imdb.com.
Rocky Balboa
Michael B. Jordan, known for his role in Cannes film festival award winner "Fruitvale Station," plays Adonis Johnson, the son of Rocky Balboa's late friend and rival. Stallone is his trainer and mentor.
The film received rave notices, as well as acclaim for director Ryan Coogler, including 93 percent positive reviews at Rottentomatoes.com.
"Equally powerful and feel-good, 'Creed' is an entertaining reminder that this franchise isn't down for the count yet," Brian Truitt wrote in USA Today.
The third new release "Victor Frankenstein" was a critical disappointment, garnering 24 percent positive reviews, according to Rottentomatoes.com.
James McAvoy features in a retelling of Mary Shelley's "Frankenstein," told from the perspective of the scientist's protege Igor, played by Daniel Radcliffe of Harry Potter fame.
The movie generated $2.4 million in weekend sales. BoxOffice.com was projecting $9.2 million for the film from 21st Century Fox Inc.'s movie division.
Weekend sales for the top 10 films rose 10 percent to $167.7 million from a year earlier, Rentrak said. Sales for the year to date have increased 4.2 percent to $9.8 billion.
The following table has U.S. box-office figures provided by studios to Rentrak. The amounts are based on actual ticket sales for Nov. 27, Nov. 28 and estimates for Sunday.
                   Rev.    Pct.             Avg./    Total
Movie             (mln)    Chg. Theaters  Theater    (mln)  Wks
===============================================================
1 Hunger Games a   51.6    -50    4,175   12,359    198.3    2
2 Good Dinosaur    39.2     --    3,749   10,454     55.6    1
3 Creed            30.1     --    3,404    8,848     42.6    1
4 Spectre          12.8    -15    2,940    4,354    176.1    4
5 Peanuts Movie     9.7    -27    3,089    3,140    116.8    4
6 Night Before,     8.2    -17    2,960    2,770     24.1    2
7 Secret In Their   4.5    -32    2,392    1,882     14.0    2
8 Spotlight         4.5     27      897    5,011     12.3    4
9 Brooklyn          3.8    230      845    4,535      7.3    4
10 Martian          3.3    -13    1,420    2,324    218.6    9



Top 10 Films Grosses



   This Week     Year Ago      Pct.
     (mln)         (mln)       Chg.
===================================
    $167.7        $151.9      10.5



Year-to-date Revenue



     2015          2014
      YTD           YTD        Pct.
     (mln)         (mln)       Chg.
===================================
    $9,807        $9,414       4.2

Source: Rentrak Corp.
Before it's here, it's on the Bloomberg Terminal.
LEARN MORE