Gunmen Attack UN Base in Northern Mali, Leaving 3 People Dead
By and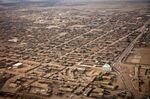 Gunmen armed with rockets and mortars attacked a United Nations base in Kidal in northern Mali, leaving three people dead, an official said.
The casualties of the attack, which occurred around 4 a.m. local time, include two peace-keepers and a civilian working as a contractor for the UN,  Christophe Sivillon, head of the UN mission in Kidal, said by phone on Saturday.
Medical evacuation of the injured is ongoing, with most in stable condition, according to Sivillon. About 20 people were hurt, according to UN spokesman Olivier Salgado.
The UN base in Kidal was also attacked a month ago. Militants linked to Al-Qaeda killed at least 20 people at the Radisson Blu hotel in Bamako, the capital, earlier this month.