Palm Oil Facing `Powerful Cocktail' of El Nino, Fuel Demand
by and
El Nino event ranks among three strongest since 1950, WMO says

LMC's Fry says full-blown El Nino could push prices to $800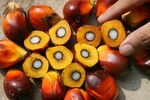 Palm oil will extend its rally next year as the worst El Nino in almost two decades curbs output in the world's biggest producers and Indonesia uses more for fuel, according to delegates at a conference in Bali. Futures climbed to the highest in almost three weeks.
The most consumed cooking oil found in everything from candy to instant noodles has jumped 26 percent from a six-year low in August after drought and smog hurt plantations in Southeast Asia. At the same time Indonesia is raising the amount of palm blended with diesel to 20 percent from 15 percent. That's boosted futures as prices of other farm commodities slump.
"El Nino and the Indonesian biodiesel mandate are a powerful cocktail that has the potential to drive prices in 2016," Dorab Mistry, director of Godrej International Ltd., said in an interview.
This El Nino will probably rank among the three strongest since 1950, the World Meteorological Organization says. It's comparable to record events in 1997-98 and 1982-83, according to the Australian government. Output fell 5.5 percent in Malaysia and 7.2 percent in Indonesia in 1998, U.S. Department of Agriculture data show. Production slid 5.1 percent in Malaysia in 1983. The two countries supply about 86 percent of the world's palm oil.
Palm oil output in Indonesia and Malaysia will stagnate or decline next year, conference speakers said. James Fry, chairman of LMC International Ltd., predicted a 9 percent drop in Indonesian production and 4.5 percent slide in Malaysian output on a full-blown El Nino, while Fadhil Hasan, executive director of the Indonesian Palm Oil Association, expected a decline of 3 percent to 5 percent.
While estimates varied on how much palm would be used as biodiesel in 2016, most delegates predicted an increase. Bayu Krisnamurthi, the head of the government-appointed Indonesia Estate Crop Fund for Palmoil, says Indonesian demand may climb to at least 7.1 million kiloliters (1.9 billion gallons) from 1.3 million kiloliters this year. Thomas Mielke, executive director of Oil World, said he doubted the rise would be as much as 3 million tons to 4 million tons.
Higher Prices
Ahmad Bambang, marketing director of PT Pertamina, sees a threefold growth in the state energy company's procurement of biodiesel to 5.5 million kiloliters next year from 2014. Ivy Ng, regional head of plantations at CIMB Investment Bank Bhd., said it could be a game changer if use exceeded market expectations of as much as 3.5 million tons and reached what she called a blue-sky scenario of 7 million tons.
Mielke said the outlook for palm oil was bullish and he expected an increase in Rotterdam prices to $750 or more as the impact of El Nino starts to bite. Mistry said the price would reach 2,600 ringgit a ton if the Malaysian currency weakens past 4.5 to the dollar. Fry said a full-blown El Nino could push free-on-board prices to $800. Futures in Kuala Lumpur ended 0.9 percent higher at 2,361 ringgit on Friday, the highest since Nov. 9.

While palm futures have soared, prices of grains have dropped to five-year lows as global inventories of corn, wheat and soybeans rise to all-time highs before next year's North American harvest.
Risks to the expansion in biodiesel use include a widening premium of palm oil over gas oil which increases the subsidy needed for each ton of biofuel and potential resistance from car manufacturers, delegates said. Abdul Rochim from the Indonesia Automotive Industry Association said concerns included rough idling, engine stalling and insufficient output power.
Both Indonesia and Malaysia also have high inventories to cushion the impact of a shortage. Malaysian stockpiles jumped to a record 2.83 million tons in October, Palm Oil Board data show, while reserves in Indonesia reached the highest in 30 months in August, according a Bloomberg survey.
Before it's here, it's on the Bloomberg Terminal.
LEARN MORE