London Luxury Homes Fall 1.5% as Tax, Ruble's Drop Hurt Sales
by and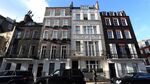 Home values in London's best districts fell 1.5 percent to about 880,600 pounds ($1.3 million) in October from a year earlier, according to an analysis of Land Registry data by Bloomberg.
Sales of luxury homes have slumped since Chancellor of the Exchequer George Osborne increased the stamp duty transaction tax to as much as 12 percent for the most expensive properties in December. He will also raise the tax applied to landlords and second-home owners by three percentage points from April.
Prime London vs. SW3 Since August 2014

"The biggest impact has been felt on homes in the 1.5 to 2 million-pound bracket as buyers of these are not oligarchs or foreign billionaires who can afford to pay more in tax," said Howard Archer, chief European economist at IHS Global Insight in London. For them, "the increase in stamp duty does make a notable difference."
Demand for London mansions has also been hit by the 26 percent decline in the value of the ruble, the slump in oil prices and lending restrictions in countries such as Singapore. Just 313 homes sold for more than 1.5 million pounds in London in August, a 30 percent decline from a year earlier, the latest Land Registry data shows.
Russian buyers acquired 4.2 percent of homes sold in central London's best districts in the third quarter, compared with 10 percent a year earlier, according to broker Knight Frank LLP. Demand from Singapore has slumped after the government capped borrowers' total debt repayments and Brent crude has fallen by more than 20 percent, reducing interest from the Middle East and Malaysia.
Sales of homes valued at 1,000 pounds to 2,000 pounds a square foot have slowed, according to British Land Co. The company is developing a project in that price range at the former Hempel Hotel in the Bayswater district in a venture with Amazon Property.
"We will do well to hit our valuation target," Tim Roberts, head of offices and residential at British Land, said in a Nov. 17 conference call with analysts.

Before it's here, it's on the Bloomberg Terminal.
LEARN MORE