Hollande Bids to Expand Anti-Terror Front in Diplomatic Tour
by and
French president addressed 52 Commonwealth leaders in Malta

Next up: EU-Turkey summit Sunday, Paris climate talks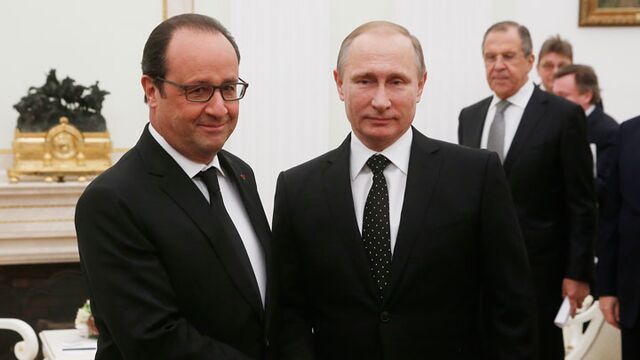 French President Francois Hollande said destroying terrorism was necessary to defend a shared "vision of mankind" as he expanded his diplomatic search for allies in the fight against Islamic State.
Having embarked on a tour aimed at forging a united front that spans the U.S., Russia and European Union nations, Hollande was in Malta on Friday to meet with leaders of the Commonwealth, a grouping of countries mostly drawn from Britain's former colonies.
He took the unusual step of urging U.K. lawmakers to grant Prime Minister David Cameron parliamentary approval to join the forces bombing over Syria. In Moscow Thursday, Hollande reached an agreement with Russian President Vladimir Putin to coordinate air strikes against jihadist militants in Syria and Iraq.
Hollande had been invited to address Commonwealth heads of government including Indian Prime Minister Narendra Modi and Justin Trudeau of Canada before he hosts world leaders at a United Nations climate summit in Paris next week. That meeting has taken on added significance since the Nov. 13 attacks in the French capital.
"The terrorists want to divide us, to set us against each other," Hollande said earlier Friday in Paris at a memorial service commemorating the 130 civilians murdered in the coordinated attacks that were claimed by Islamic State. "They will fail."
A wave of terrorist outrages including a suicide bombing in Ankara, the downing of a Russian tourist jet in Egypt and an armed assault on a hotel frequented by foreigners in Mali has galvanized international efforts to combat Islamic State and seek a resolution to the festering conflict in Syria. Cameron put addressing extremism on the agenda of the Commonwealth meeting, while an EU-Turkey summit in Brussels Sunday will attempt to agree on a means to stem the flow of refugees fleeing Syria for Europe.
Hollande, who won pledges of military support this week from U.S. President Barack Obama and European chiefs including German Chancellor Angela Merkel, will have the opportunity in Malta to meet with leaders including Pakistan's Prime Minister Nawaz Sharif and President Muhammadu Buhari of Nigeria.
Commonwealth countries have "a vital role to play in broadening international efforts to counter extremism," Cameron said as he arrived in Malta, and announced that the U.K. will put 5 million pounds ($7.5 million) toward a unit that will work with smaller countries struggling to combat terrorism. "The fight against extremism is something that affects us all."
Assad's Future
Hollande was in Malta following a three-hour meeting in the Kremlin late Thursday after which Putin offered a tentative nod toward cooperation with the alliance.
In Moscow, Hollande insisted that "neutralizing the terrorists" is "the only objective," echoing western leaders who have exhorted Putin to focus Russian firepower on jihadists rather than the moderate opposition seeking to oust Syrian President Bashar al-Assad. Putin, who aims to bolster the regime, agreed the two sides would exchange information about which areas of Syria are controlled by the anti-Assad groups.
"We will avoid striking them," Putin said at a joint press conference after the talks, though the two didn't bridge differences over Assad.
Turkey's Role
The complex calculus of the overlapping allegiances in Syria's four-year civil war was compounded further this week with the downing of a Russian combat jet by Turkish forces on the Turkish-Syrian border. Turkey, a member of the U.S.-led coalition in Syria, says the aircraft violated its airspace, which Russia denies.
Turkish President Recep Tayyip Erdogan, speaking at a public event in the eastern province of Bayburt Friday, warned that supporting the Assad regime amounted to "playing with fire." Turkish stocks jumped and the lira erased losses as investors focused on the more conciliatory passages of his speech, including a suggestion that he may talk with Putin in Paris.
Complex Nexus
The UN-sponsored climate negotiations are shaping up to be a forum for world leaders to discuss the complex nexus of terrorism, refugees, Syria and the balance of power in the Middle East. 
Putin will hold bilateral talks with Israeli Prime Minister Benjamin Netanyahu on Syria and the fight against terrorism, according to a Kremlin aide. Preparations are under way for a meeting with Merkel and talks with the U.S. president can't be ruled out, the aide told reporters Friday.
Merkel, a former environment minister, said this week that the world's success or failure to tackle climate change will be felt by future generations.
"I hope that this climate conference will be successful," Merkel told lower-house lawmakers in Berlin. "It could send a wonderful signal against terror and war and in the fight against the reasons for people fleeing their homes."
Before it's here, it's on the Bloomberg Terminal.
LEARN MORE