From Paris to Brussels: Timeline of Two Cities United by Terror
by
Focus shifted to Belgium after French attacks left 130 dead

Belgian capital shut subway, schools amid imminent threat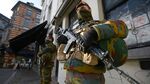 Shortly after the worst terrorist attack on French soil since World War II, the spotlight shifted 200 miles northeast from Paris as it emerged that many of those who took part in the massacre of 130 people on Nov. 13 had lived in Brussels. A week after French President Francois Hollande declared the Islamic State assaults an "act of war," Belgian Prime Minister Charles Michel warned a similar attack in Brussels was imminent. Days of near-lockdown ensued as one of the attacks' chief suspects remained at large.
MONDAY, NOVEMBER 9
Brothers Brahim and Salah Abdeslam, both French nationals living in the Molenbeek area of Brussels, rent three cars in Belgium.
FRIDAY, NOVEMBER 13
Brahim is one of seven gunmen and suicide bombers who die in Paris during a killing spree in cafes, at the national stadium and the Bataclan concert venue, killing 130 and leaving hundreds more injured. The Belgian cars, which prosecutors later say were driven from Belgium to Paris that morning, are found not far from the attacks. Hollande calls the massacre an "act of war" against France by Islamic State.
Parisians Wake to City at 'War' After Coordinated Attacks
SATURDAY, NOVEMBER 14
Police stop a car containing Salah and two other people on the way back from Paris to Brussels, including at 9.10 a.m. on the freeway at Cambrai, in France, near the Belgium border, Belgian prosecutors say.
Belgium carries out counter-terror raids in Molenbeek following French requests related to the cars. Police detain three people.
Paris Attacks Reveal Belgium as the Heart of European Terror
SUNDAY, NOVEMBER 15
More raids in Molenbeek bring the total number of detained suspects in Brussels to seven as Belgium puts out an international arrest warrant for Salah Abdeslam.
Belgium Swoops on Paris-Attack Suspects as Death Toll Rises
MONDAY, NOVEMBER 16
As pressure increases on Belgian authorities to reveal how much intelligence they had on the terrorists and their suspected accomplices, forces carry out another raid in Molenbeek. Again they fail to find Abdeslam. On the same day two Belgians are charged with terror offenses.
Jihadis Next Door Is a Way of Life for Ghetto Belgium Neglected
TUESDAY, NOVEMBER 17
Tuesday night's soccer match between Belgium and Spain is called off as Belgium deploys about 500 soldiers on the streets. The game between France and England goes ahead in London, while in Hanover a bomb threat leads Germany to cancel a match with the Netherlands that German Chancellor Angela Merkel was due to attend.
WEDNESDAY, NOVEMBER 18
French counter-terror forces storm an apartment in the northern Paris suburb of Saint-Denis in a seven-hour raid, killing three suspected extremists including Abdelhamid Abaaoud, whom investigators believe to be the mastermind of the Nov. 13 attacks.
France Intensifies Assault on Islamic State at Home, Abroad
THURSDAY, NOVEMBER 19
Nine counter-terror raids are conducted across Brussels. Nine people are detained, all but two are released the following day.
Terror Manhunt Sees Brussels Arrest as Police Trawl Paris Rubble
FRIDAY, NOVEMBER 20
Shortly before midnight, Belgium's OCAM national crisis center raises the terrorist alert to maximum level 4 for Brussels, meaning "very serious," warning people to avoid places where there are large concentrations of people such as railway stations and shopping malls.
Brussels on Terror Alert as UN Urges Fight Against Islamic State
SATURDAY, NOVEMBER 21
Authorities say there is the threat of an "imminent" terrorist attack on Brussels. The metro system doesn't open, the U.S. embassy advises its citizens in the Belgian capital to stay indoors. Eurostar, which operates trains to Belgium from London, recommends Brussels-bound passengers not to travel.
"We have precise information that outlines the risk of an attack similar to the one that unfolded in Paris," Belgian Prime Minister Charles Michel says. "It is a threat based on the theory that it would take place with arms and explosives, maybe even in several places and at the same time."
As darkness falls, downtown Brussels is almost deserted, with restaurants and cafes closing, some because of so many cancellations, others because of specific police orders.
Ghost-Town Brussels Loses Trade as Terror Threat Continues
SUNDAY, NOVEMBER 22
Various politicians give differing accounts of the threat facing Brussels. "Several suspects" are planning an attack, says Interior Minister Jan Jambon. "Two terrorists are on the ground in Brussels," according to Bernard Clerfayt, mayor of the Brussels district of Schaerbeek.
The Belgian government announces heightened security measures will continue into Monday with schools, universities and creches closed and the metro not running. In the evening special forces carry out 22 raids across the country. The police tells media not to publish any information about the operations as they progress. Salah Abdeslam isn't found.
MONDAY, NOVEMBER 23
Brussels has the appearance of a public holiday. The metro doesn't run, large department stores are closed, schoolchildren are kept home from school and many banks and businesses tell employees to work from home. The North Atlantic Treaty Organization, which is based in the city, tells non-essential staff not to come to the office. A meeting of euro-area finance ministers goes ahead.
Authorities extend the highest state of alert for a week. Michel says schools and the subway system will reopen on Wednesday, reiterating that the threat has not diminished. "Shopping centers, streets, public transport," are all potential targets, he says.
Brussels Extends Lockdown as Paris Terror Suspect Eludes Police
TUESDAY, NOVEMBER 24
Belgium issues an arrest warrant for new suspect Mohamed Abrini, who was seen driving a car with Abdeslam two days before the Paris attacks. Abrini is "dangerous and probably armed," police say.
WEDNESDAY, NOVEMBER 25
Soldiers guard many schools as children return to classes. The metro starts running a partial service, with many stations remaining shut and others under watch of heavily armed military personnel.
Foreign Minister Didier Reynders tells ABC television authorities are searching for as many as 10 potential "suicide bombers" who are "heavily armed."
At Least There's Plenty of Parking: Brussels Endures Lockdown
THURSDAY, NOVEMBER 26
Authorities remove Brussels from the maximum terror-threat level. The capital is no longer facing an "imminent threat," Prime Minister Charles Michel says. Still the cut to level 3 -- the same as the rest of the country -- shows the risk of a terror attack "remains serious," he says. He does not say what intelligence has brought about the change in thinking.
Brussels Terror Threat Level Cut as Police Raids Continue
FRIDAY, NOVEMBER 27
Officials struggle to explain why authorities have reduced the threat level when Abdeslam is still at large. "It's not just the state of the inquiry which justifies a certain threat," Justice Minister Koen Geens tells RTBF television. When asked about Reynders' remarks from earlier in the week that as many as 10 jihadists were planning an attack, Geens says he didn't hear him say it.
Before it's here, it's on the Bloomberg Terminal.
LEARN MORE