France's Hollande Urges U.K. Lawmakers to Vote for Syria Strikes
by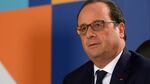 French President Francois Hollande urged U.K. lawmakers to back an expansion of bombing raids against Islamic State to Syria, wading into British party politics as he seeks to widen the anti-terror coalition after the Paris attacks.
Hollande's unusual intervention was aimed at his Labour colleagues in the House of Commons and exposed a public disagreement with party leader Jeremy Corbyn, who opposes the expansion of strikes sought by U.K. Prime Minister David Cameron.
"I do hope that the House of Commons will be able to meet the request of prime minister Cameron," Hollande said Friday after attending a summit of leaders of Commonwealth nations, including Cameron, in Malta. He thanked countries that have provided support, singling out German Chancellor Angela Merkel for her "unprecedented decision" to offer military help.
As Hollande seeks a broad military response to the Nov. 13 attacks in the French capital that killed 130 people, Cameron made the case for bombing in a speech to the House of Commons on Thursday. Britain shouldn't stand by while other countries confront Islamist terrorism, and bombing is one of the requirements for destroying the "death cult" of Islamic State, he said.
Corbyn, a veteran socialist who has long opposed British foreign intervention, including U.K. involvement in Iraq, Afghanistan and Libya, later issued a statement saying he was not convinced by Cameron's arguments and would oppose air strikes if they're put to a vote.
Labour is divided and Corbyn's shadow cabinet will meet on Monday to seek a united position, he said. Many senior figures in the party support the expansion of attacks, meaning that a vote would divide Labour.
Before it's here, it's on the Bloomberg Terminal.
LEARN MORE