BTG Declines a Third Day After Billionaire Esteves Jailed
By
BTG says it can meet its obligations amid concerns on funding

Moody's, Fitch said they could downgrade the bank's rating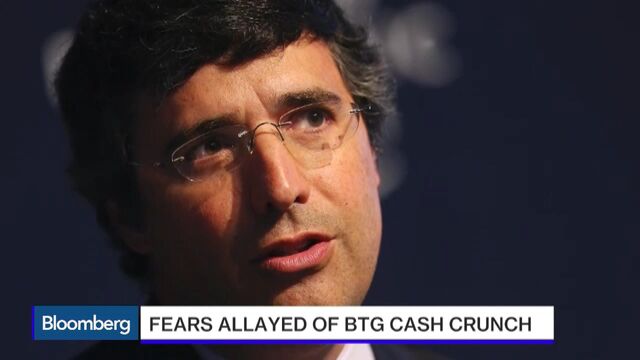 Grupo BTG Pactual's shares fell for a third-straight day, even as the bank sought to reassure clients it's on solid footing after its billionaire controlling shareholder Andre Esteves was arrested this week in Brazil's sprawling corruption probe.
BTG dropped 3.9 percent to 22.78 reais at 4:01 p.m. in Sao Paulo, compared with a decline of about 2.8 percent for the Ibovespa benchmark index. The shares have plunged more than 26 percent since Esteves's arrest on Wednesday, despite the lender announcing a buyback of as much as 23 million shares the same day.

"The bank is solid and has a robust financial position," interim Chief Executive Officer Persio Arida, who was appointed Wednesday, wrote in a letter to clients Friday. A bank official confirmed the statement. "We are reviewing the facts linked to the accusations against Mr. Esteves to guarantee that all the issues will be clarified as soon as possible."

Esteves was detained Wednesday for allegedly seeking to interfere with testimony of a former executive of Petroleo Brasileiro SA, who was jailed in January under paid-bribes allegations. Concerns about the bank's funding and liquidity prompted Moody's Investors Service and Fitch Ratings to say they were reviewing BTG's credit rating for a possible downgrade.
Arida also told clients that the bank isn't under investigation or accused of any wrongdoing.
Partners at BTG Pactual contacted Banco Bradesco SA and UBS Group AG executives for initial talks that could result in a deal, Veja columnist Geraldo Samor reported Thursday, without saying how he got the information. Officials at BTG, Bradesco and UBS declined to comment.
In an interview published by Valor Economico Friday, Arida said the bank is "certainly" not for sale. Following the arrest, BTG faced smaller-than-expected withdrawals, given the "magnitude" of the event, Arida said, according to Valor. BTG confirmed all Arida's comments in the interview.
BTG has 23 percent of its funding coming from equity or long-term debt, while total shareholder equity reached 22 billion reais ($5.8 billion) at the end of the third quarter, according to its earnings statement.
Arrest Order
Esteves, 47, was transferred from federal police Rio de Janeiro headquarters to a regular jail known as Bangu 8 after his lawyer's request to have him released was denied by Supreme Court Justice Teori Zavascki late Thursday. Antonio Carlos de Almeida Castro, one of the billionaire's defense lawyers, said by phone that nothing more can be done until Nov. 29, when the temporary arrest order for Esteves expires.
He was first detained on Wednesday, along with Senator Delcidio Amaral, in the newest development of Brazil's biggest corruption scandal. The arrest led the bank to post its biggest drop since its initial public offering in 2012, and caused yields on benchmark bonds to almost double. Yields on the notes due 2020 fell to 11.8 percent on Friday, from a record of 12.3 percent on Wednesday.