Ukraine Suspends Crimean Power Repairs Amid Spat With Russia
by , , and
Grid operator says protesters demanded work be halted

Electricity dispute has worsened tensions with Russia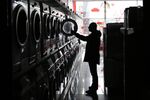 Ukraine suspended repairs of sabotaged power lines that have left much of Crimea, annexed by Russia, with no electricity and heightened tensions between the two neighbors.
Grid operator Ukrenergo, which said earlier that work would be completed Thursday, halted restoration of the cables at 10 a.m. in the nearby Ukrainian region of Kherson, company spokesman Zynoviy Butsyo said by phone from Kiev. Ukrenergo stopped repairs at the request of protesters that include Crimean Tatars, he said. The group is demanding Crimean authorities release political prisoners.
"We handed over to the Crimean authorities a list of 10 political prisoners, including seven Crimean Tatars, whom we demand be released," Ukrainian Tatar lawmaker Mustafa Jemilev said Thursday by phone. "If they release at least one, this won't be enough, of course, but that would be a good sign for further dialogue." 
The electricity outage has further strained ties with Russia, which accuses Ukraine of delays in restoring supplies. President Vladimir Putin said Wednesday the power cut happened with Ukraine's "silent consent" and reaffirmed plans to install cables from Russia. The Tatars, some of whom left Crimea after Putin annexed the territory, had been blocking cargo, including food, from reaching the peninsula over what they call repression by the new authorities there.
Generators Sent
Access to the site remained blocked Thursday afternoon, Ukrenergo said in a statement on its website. A brigade is nearby, ready to complete the repairs, it said.
Ukraine imposed a temporary ban on cargo traffic to Crimea Monday at the demonstrators' request. Russian Energy Minister Alexander Novak said Tuesday that the government in Moscow may seek reprisals for Ukrainian delays in restoring power supplies. Russia sent 600 power generators to Crimea, the peninsula's government said Thursday on its website.
The Tatar community has complained some of its members have been jailed and gatherings have been banned, along with other forms of political oppression, since Russia's annexation. In September, the Organization for Security and Cooperation in Europe said Russia's annexation has given rise to restrictions of fundamental freedoms and human rights.
Before it's here, it's on the Bloomberg Terminal.
LEARN MORE