U.K. Rapeseed Output Seen Falling to 7-Year Low on Farmer Costs
by
Rapeseed area may decline by about 15%, United Oilseeds says

Farmers cutting plantings amid high costs, pesticide rules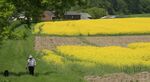 The U.K. may produce the smallest rapeseed crop in seven years in 2016 as farmers cut planting amid high costs, according to United Oilseeds.
The harvest may fall to 2 million metric tons, down 17 percent from this season, Chris Baldwin, a managing director at the Devizes, England-based cooperative, said in a speech Thursday in Newbury. That would be the smallest crop since 2009, government data show.
Bumper harvests of grains and oilseeds worldwide have pressured agriculture prices this year, with rapeseed futures declining in July and August, a time when farmers were making decisions about what to plant. European Union regulations banning the class of pesticides called neonicotinoids also pose potential risks for yields, spurring farmers to reduce planting, according to the cooperative.
"Growers are being turned off because it's an expensive crop to grow," Owen Cligg, trading manager at the company, which markets about 20 percent of the U.K.'s rapeseed crop, said in an interview. "And there's a perception, because they haven't got the neonicotinoids, that it's a risky crop."
Looks Tight
The area sown with rapeseed in the U.K. will probably drop about 15 percent from the prior year to 536,000 hectares (1.3 million acres), Cligg said. That's less than the Agriculture & Horticulture Development Board's estimate of 565,000 hectares in Great Britain. The U.K. is the EU's fourth-largest rapeseed grower, after France, Germany and Poland, according to Brussels-based lobby Coceral.
Rapeseed futures in Paris have rebounded in recent months, in part because European supplies are tightening even as global supplies of competing oilseeds including soybeans remain ample. Both crops are used to make cooking oil, animal feed and biofuels.
Rapeseed production in the EU is estimated to fall 13 percent in the current 2015-16 season, according to the European Commission, the bloc's administrative arm. The EU accounts for about a third of global production. While the demand-and-supply picture "looks tight," price gains are limited due to soybean production, grain marketer Openfield said in a Nov. 20 report.
Before it's here, it's on the Bloomberg Terminal.
LEARN MORE