business
Terror Suspect on the Loose Leaves Fearful Brussels in Bind
By and
City remains on highest alert yet schools and metro re-open

Manhunt for Abdeslam continues as authorities seek accomplice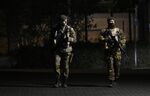 Authorities put Brussels on its highest terror alert because they feared Salah Abdeslam was on the loose and planning a murderous attack on the city. He hasn't been found. Now what?
With Abdeslam, a suspect linked to the Nov. 13 massacre that left 130 people dead in Paris, probably at large in the Belgian capital, the government wasted no time on Saturday warning people of an "imminent" terror strike on multiple targets. It closed schools, shopping centers and the subway network, advised cafes to shut early and told people to avoid large gatherings. Soldiers patrolled the streets.

On Wednesday, after four days of lockdown, the government allowed schools, malls and public transport to re-open with increased security, while keeping the terror threat level for Brussels at the maximum of 4, as Abdeslam continued to elude police.
"The Belgian government is in a bind," said Roland Freudenstein, policy director of the Martens Centre for European Studies in Brussels. "They probably did not anticipate a situation in which they would have to lift the lockdown -- for obvious economic, financial and even psychological reasons -- without any substantial new arrests or discovery of weapons caches, let alone finding Abdeslam."
Downtown Streets
Authorities said the highest state of alert will continue until Monday. While most life is returning to normal, many downtown streets remained quiet on Thursday as tourists stayed away and stores showed reluctance to allow in customers without security controls. The metro operated only a partial service with many stations closed and several lines scheduling an early finish.
"To allow life to continue normally they have opened schools and progressively the metro, even though they have left the terror alert at level four; that is a bit contradictory," said Daniel Schwammenthal, director of the Brussels-based AJC Transatlantic Institute, a Jewish advocacy group in Brussels. "In crisis situations like these, it is critical to be as open as possible with the public so that the population feels it can trust the government."
Belgian authorities announced on Tuesday that they were looking for another man, Mohamed Abrini, who was seen driving a car between Brussels and Paris with Abdeslam two days before the killings in Paris. They described Abrini as "dangerous and probably armed." After raids across Belgium since the Nov. 13 assaults in the French capital, prosecutors have charged five people with terror offenses.
Terror Threat
Belgian Prime Minister Charles Michel underlined at a press conference on Tuesday that an independent organization decides on the country's terror threat. Even so, it's the government's job to act on it and "we do everything in our power to keep the situation under control," he said.
For Schwammenthal, the government's dilemma is not one that's arisen just because of its confused terror message since the weekend.
"Belgium has put itself in a box by allowing this situation to fester over years to reach such dangerous heights, not by raising the terror alert in Brussels to level four to confront this imminent threat," he said.
— With assistance by John Martens
(
Updates with metro operations in fifth paragraph.
)
Before it's here, it's on the Bloomberg Terminal.
LEARN MORE