German Warplanes to Help in Syria as Merkel Heeds French Plea
by , , and
Germany poised to step up engagement against Islamic State

Frigate, refueling part of response to French aid request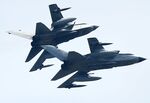 German Chancellor Angela Merkel's government agreed to send reconnaissance planes to Syria to help fight Islamic State, signaling readiness to join the anti-terror coalition spurred by the Paris attacks.
Germany plans to contribute Tornado surveillance planes, a frigate to help protect France's Charles de Gaulle aircraft carrier, aerial refueling for French fighter jets and satellite data, Defense Minister Ursula von der Leyen said after Merkel's senior cabinet members met in Berlin on Thursday.
"The government today decided on difficult, but important and necessary steps," von der Leyen told reporters after briefing Merkel's parliamentary group behind closed doors. "We all joined together in the awareness that we're firmly at France's side."
Between four and six of the planes, which have special cameras and infrared equipment to detect enemy positions, would be deployed and used only for surveillance, not combat, according to officials in Merkel's governing coalition. The package of measures is due to be discussed in Cabinet and put to a parliamentary vote next week.
Germany is facing pressure by France, its key ally in Europe, to ease military restraint and step up its contribution to the fight against Islamic State after the Paris terror attacks that killed 130 people on Nov. 13. Germany generally sets strict limits for its military engagements, including for the Kosovo war in 1999 and in Afghanistan.
Foreign Minister Frank-Walter Steinmeier, a member of Merkel's Social Democratic coalition partner, said Germany's proposed contribution is "on firm ground" under international law after the United Nations Security Council last week called for global action against Islamic State.
"We won't be able to get by without a military confrontation" with Islamic State "and other terrorist groups in Syria," Steinmeier said.
'Common Enemy'
French President Francois Hollande, at a joint press conference with Merkel in Paris on Wednesday, welcomed her offer to send 650 troops to Mali to free up French forces, while saying Germany could "engage even more in the fight against ISIS in Syria and in Iraq."
"If the French president asks me to think about what we can do beyond that, then it's our task to consider it -- and we will react very quickly," she said. "Islamic State won't be persuaded by words; Islamic State must be fought with military means," she said. "Terrorism is our common enemy."
After returning from Paris, Merkel met Steinmeier, von der Leyen and SPD head Sigmar Gabriel at the chancellery Thursday to craft the German response.
Before it's here, it's on the Bloomberg Terminal.
LEARN MORE