Mercedes to Add Finnish SUV Production Amid Growth Push
By and
Finnish contract manufacturer to start GLC assembly in 2017

Production of Mercedes A-Class cars shifting to Rastatt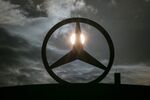 Mercedes will start building its newest SUV at Finnish contract manufacturer Valmet Automotive Oy in 2017 as well as at its own factory, part of an expansion that could eventually include new plants.
The Daimler AG division is using a "three-pillar system" of its own factories, joint ventures and contract manufacturers to meet growing demand, Mercedes production chief Markus Schaefer said. He left open the option of building new plants. "We'll expand our global production capacity when we need it, as part of our strategy to become the No. 1 luxury carmaker."
Mercedes is boosting capacity for the new GLC because it expects sport utility vehicles to keep becoming more popular, Schaefer said in an interview this week at its biggest factory in Sindelfingen, Germany, where the company makes the top-of-the-line S-Class. The GLC's main home will continue to be a plant in Bremen; the Finnish contractor will fill orders the German site lacks capacity to process. Mercedes this year also contracted out production of the R-Class wagon to focus its U.S. factory on SUVs.
The expansion is part of Mercedes's plan to surpass BMW AG and become the world's top luxury-car maker by the end of the decade. Its sales have grown nearly three times as quickly as BMW's this year, and its C-Class lineup and strong demand in China for the GLK model, the GLC's predecessor, have put it in position to overtake Audi for the No. 2 spot.
Shares Rise
Daimler rose the most in more than a month, trading up 3.2 percent to 82.01 euros at 1:19 p.m. in Frankfurt.
To free up capacity for the GLC at Valmet's factory, its production of the compact Mercedes A-Class will be shifted to the Stuttgart, Germany-based manufacturer's plant in Rastatt, Schaefer said. Valmet, based in Uusikaupunki, Finland, will produce about 100,000 A-Class hatchbacks for Mercedes from 2013 to 2016 under its contract, and the GLC order has about the same volume, Mercedes said in an e-mailed statement. The Finnish company has also made the Boxster roadster for Porsche.
Daimler remains in talks for a manufacturing plant in Russia, and a final decision will depend on a market recovery, Schaefer said. The German carmaker already holds a stake in Russian truckmaker KamAZ PJSC and produces the Sprinter van in a joint venture with GAZ Group.
In the first 10 months of the year, sales at BMW's namesake marque rose 5.8 percent to 1.56 million cars. Audi's deliveries were up 3.6 percent to 1.49 million vehicles. Mercedes outpaced them both with a 15 percent jump to 1.53 million autos. In China, the Daimler unit surpassed its full-year sales volume from 2014 after only ten months, defying a slowdown in the market as a whole.