Kazakh Foreign-Currency Deposits Climb to 9-Month High on Tenge
by and
Tenge deposits drop 4.1% in October as currency woe persists

Central bank abandoned defense of tenge in August as oil fell
Kazakh foreign-currency deposits approached a nine-month high in October as the tenge continued to slide after the government abandoned its defense of the currency, encouraging companies and households put their cash in banks.
Deposits climbed 2 percent to $34.4 billion last month, while savings in the local currency declined, central bank data on Thursday showed. The tenge dropped 2.9 percent in October, extending its retreat to 10 percent since the central bank moved to a free-floating exchange rate on Aug. 20.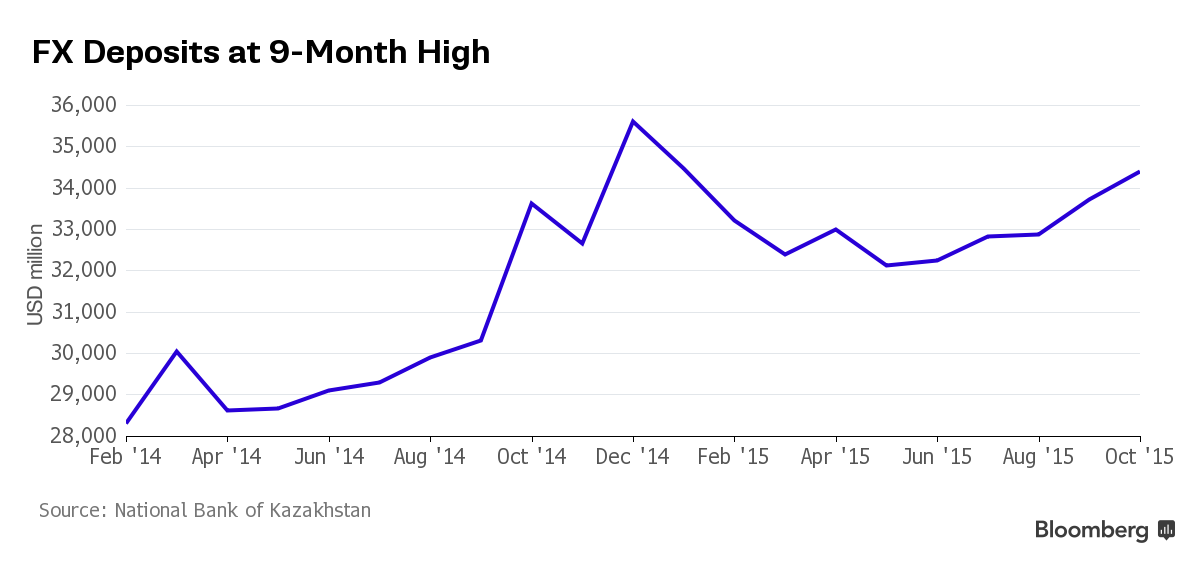 While the central bank returned to the currency markets in September to pull the tenge out of its nosedive, the regulator has reduced the size of the interventions, allowing the exchange rate to adjust to "fundamental factors," according to a report released yesterday by the International Monetary Fund. Policy makers should get rid of a cap on rates for tenge deposits to stem the withdrawals from savings in the local currency, it said.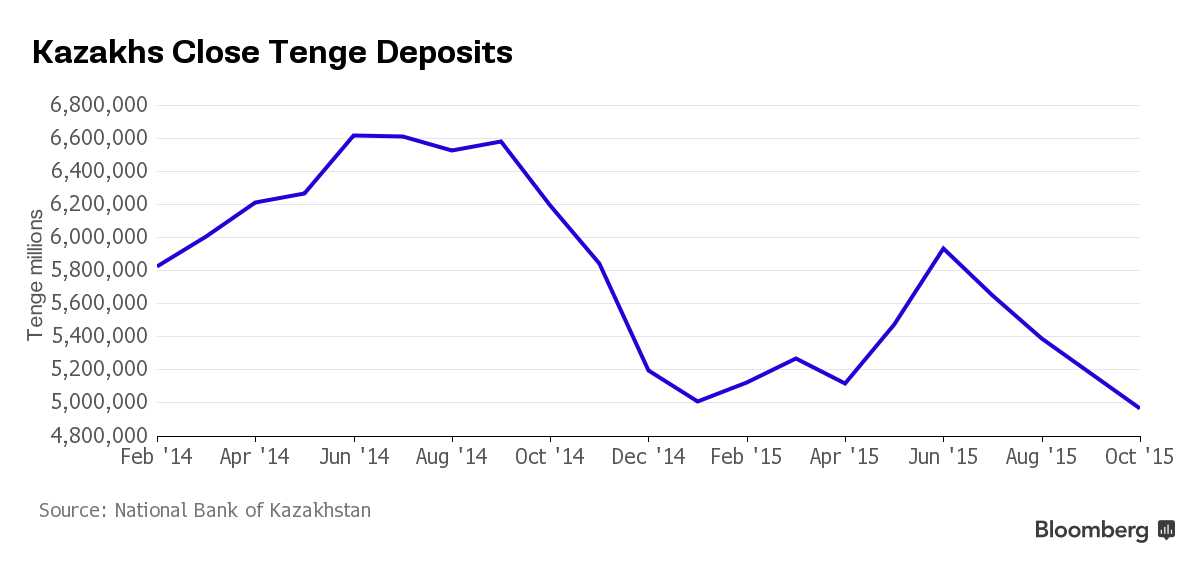 Local currency-denominated deposits fell 4.1 percent in October to 4.97 trillion tenge ($16 billion), almost 8 percent lower than in August, when policy makers allowed the tenge to weaken in line with oil prices in a bid to boost competitiveness after Russia and China devalued their currencies.
The tenge was little changed at 307.18 per dollar today, near a record-low close of 308 on Nov. 16.
As the currency lurched ever lower in the past three months President Nursultan Nazarbayev named Daniyar Akishev as central bank governor at the start of November to restore trust in the tenge, replacing Kairat Kelimbetov.
Before it's here, it's on the Bloomberg Terminal.
LEARN MORE