business
Investing in Russia or Turkey? Winner Says Ignore Downed Jet
By
Best fund manager ignores shootdown, sticks with copper mines

Dumping Russian health care over country's excess pharmacies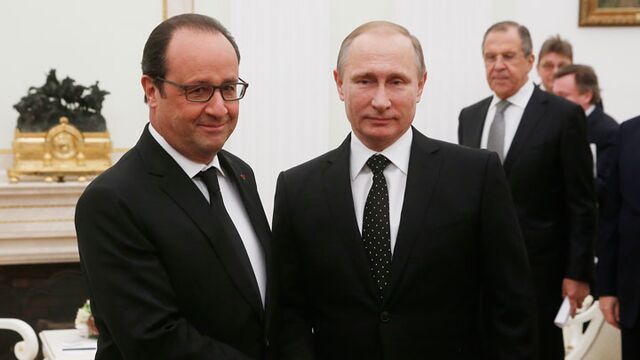 Marko Daljajev says he's made money on Turkish and Russian stocks by ignoring the big international events that make headlines.
That's good advice now, when tensions between the two countries are sizzling after Turkey this week shot down a Russian fighter jet. Daljajev runs the SEB Eastern Europe Small Cap Fund, which is the best performer this year out of the 100 with sizable holdings in both countries.
Over the past 12 months Turkey has experienced a hung parliament, record lira weakness, terrorism and a flood of Syrian refugees. Russia's been in recession, crippled by the plunge in world oil prices. Even so, Daljajev's euro-denominated fund is up 17 percent, while the MSCI Eastern European benchmark is down by 5 percent. 

Daljajev has done it by thinking small and local. His top pick in Turkey is Park Elektrik, a metal extractor he says is poised to shoot up even while copper itself is plummeting. In Russian he's keen on Ros Agro Plc, a pork and sugar producer that benefits from import-substitution policies. He's watched its shares more than double in value.
"While the top-down story for commodities like copper might be shaky, bottom-up some companies might do very well and sooner or later investors will price it in," the 32-year-old fund manager said in an interview.
Escalation Unlikely
The incident near the Syrian border , which has stoked recriminations between Turkish President Recep Tayyip Erdogan and Russian President Vladimir Putin, hasn't prompted him to reconfigure his holdings. He says escalation would serve neither leader's interests.
The fund manager, who's based in Tallinn, Estonia's capital city, says he hunts for localized mismatches in price. He parted with one of his favorite Russian health-care stocks after calculating the country was oversupplied with pharmacies. Moscow has one for every 1,400 people he says, more than three times the European average.
In addition to Daljajev's investments in Turkey and Russia, he's also got holdings elsewhere in Eastern Europe and Central Asia. Toward the western edge of his remit he likes Polnord SA, a Polish real estate developer. He's predicting a turnaround because it's trading at about 12 zloty ($3) a share, even though he says its assets are more or less the same as in 2007, when it climbed above 300 zloty.
Daljajev took over the fund, now worth 49 million euros ($52 million) at Skandinaviska Enskilda Banken AB at the beginning of 2014. For the sake of liquidity, he keeps tiny holdings in the biggest names on the Russian and Turkish indexes. But it's in smaller companies that he realizes his biggest gains. 
"The beauty of small caps in the region is that among them one can find companies that are counter-cyclical," he said. "If you take a big position in one or two stocks that go up 100 percent, then you don't have to worry too much about the rest."
(
Updates with recommendation on Polish stock in eighth paragraph.
)
Before it's here, it's on the Bloomberg Terminal.
LEARN MORE