Hollande to Urge Putin on Common Terror Targets as Splits Remain
by and
French president aims to draw `lessons' of Paris attacks

Tensions flare over Turkish downing of Russian warplane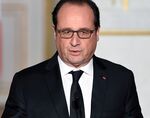 French President Francois Hollande heads to Moscow Thursday to discuss combating Islamic State militants in Syria with Russian counterpart Vladimir Putin, as expectations fade of a united front involving Russia and the U.S. following a wave of terrorist attacks.
Before leaving Paris, Hollande, who met with U.S. President Barack Obama in Washington on Tuesday, reiterated French demands for the eventual ouster of beleaguered Syrian President Bashar al-Assad, who has been bolstered by a two-month bombing campaign by Russia. His meeting with Putin aims to "draw all the lessons" of the Nov. 13 terrorist attacks in Paris that killed 130 people, Hollande told reporters Thursday.
France sees no possibility of forming a coalition with Russia because that would mean sharing intelligence and a joint command, according to a French official with knowledge of his strategy. Instead, Hollande hopes to get Putin to agree at least on some common targets such as Islamic State's oil business and command centers, the official said, asking not to be identified because the discussions are confidential.
Efforts to rebuild ties between Russia with the U.S. and its allies have been complicated by a flare-up of tensions over NATO member Turkey shooting down a Russian military jet inside Syria. As the momentum toward reconciliation witnessed at a Group of 20 summit 10 days ago fades, Obama and Hollande called for restraint from Russia and Turkey to avoid escalation, while also urging Russia to focus its air strikes on Islamic State and avoid hitting moderate opposition to Assad.
Russia said Turkey may have planned the downning of its aircraft, which Putin called "a stab in the back" from accomplices of terrorism, while ruling out a military response. Turkish President Recep Tayyip Erdogan maintained that the Russian jet was shot down after failing to heed multiple warnings and crossing into his nation's airspace. Turkey, along with Gulf states and the U.S., is backing armed opponents to Assad, who is supported by Russia and Iran.
Divisions on Syria and the worst confrontation since the Cold War between Russia and the U.S. and Europe over Ukraine mean there is little trust and no chance of formally joining forces against Islamic State, said Fyodor Lukyanov, head of the Moscow-based Council on Foreign and Defense Policy, a research group that advises the Kremlin.
At the same time, the Paris attacks and the Oct. 31 downing of a Russian passenger jet in Egypt, both claimed by Islamic State, have led to a convergence of interests, Lukyanov said by phone. If the two sides can agree on an arrangement to ensure they "don't interfere with each other," that in itself would be a "big success," Lukyanov said.
Before it's here, it's on the Bloomberg Terminal.
LEARN MORE