From Facebook to Trade, Taiwan Sees Warmer Welcome After Xi Meet
by and
China summit seen giving island space to expand overseas ties

Top finance regulator invited to Indonesia, Vietnam for visit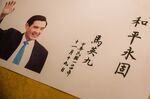 Vietnam is hosting Taiwan's top financial regulator for a first-of-its-kind visit. Indonesia made drawing investment from the island a focus of a new trade post. Singapore's leader is posting Facebook photos of tea with Taiwanese President Ma Ying-jeou. 
In the days since Ma's historic handshake with his Chinese counterpart, Xi Jinping, Taiwan has begun to feel a tangible, if nascent, ease in its long diplomatic isolation. With a series of trips and exchanges, neighbors appear to be testing the boundaries of Taiwan's space on the world stage after Xi ended the seven-decade estrangement and signaled it might no longer be taboo to meet with leaders from the self-ruling island.
"Closer ties between Taiwan and China have helped increase opportunities for Taiwan to participate in international events and activities with dignity," said Liao Da-chi, a professor at National Sun Yat-sen University's Institute of Political Science. "What's worth observation next would be whether the development can increase the odds for Taiwan to participate in international organizations as a political entity."
The Xi-Ma meeting in Singapore on Nov. 7 was not only significant as a demonstration of the flourishing trade ties between the two civil war foes. It also gave the island of 23.5 million a chance to assert itself as part of the global community.
Civil War
Since Generalissimo Chiang Kai-shek moved the Republic of China government to Taiwan at the end of the civil war in 1949, the island has seen diplomatic support erode as its bigger, more powerful rival forced countries to pick a side. Today, just 22 states including the Vatican recognize the Taiwanese government and the island's blocked from participating in many international organizations.
Among the first to exploit the shift after the Xi meeting was Singaporean Premier Lee Hsien Loong, who hosted Ma for tea and posted a photo on Facebook. While the pair had met before -- the two sides signing a free-trade deal in 2013 -- it was the first time the Singaporean government had acknowledged it.
At an interview with Bloomberg Nov. 19, Ma wrote the words "Safeguarding peace forever" in Chinese calligraphy, signifying what he saw as the main takeaway from his summit with Xi.
Virtuous Cycle
"Experience in the past seven years has shown that improvement in cross-strait relations has created a more friendly international environment for Taiwan," Ma said in a Nov. 19 interview. "Cross-strait ties and international relations used to form a vicious cycle, but they have become a virtuous cycle."
There are limits to China's tolerance for diplomatic and trade activity by Taiwan. Last month, the world's second-largest economy urged the European Union to refrain from engaging in formal trade discussions with the island.
Taiwan's international status will face another test after its Jan. 16 presidential election, in which the island will pick a successor for Ma. Polls show opposition leader Tsai Ing-wen, who hasn't specifically endorsed China's framework for cross-strait talks, with a wide lead over Eric Chu, of Ma's Kuomintang.
Overseas Investment
For now, there have been other signs of improvement. Indonesian President Joko Widodo this week included Taiwan among the areas of focus for a new official tasked with drawing more investment from overseas. Taiwan approved $401 million of investment to Southeast Asia's biggest economy in the first 10 months the year, more than quadruple the $91.9 million recorded in the same period of last year.
Meanwhile, the chairman of Taiwan's Financial Supervisory Commission, Tseng Ming-chung, has been invited on trips to Vietnam and Indonesia in the coming weeks -- the first such trips by the top markets regulator.
"Non-political allies are now more willing to engage in communication after they witnessed the leaders' summit in Singapore," Tseng said by phone Wednesday.
Nowhere was that communication more obvious than the Singaporean leader's social-media posting, which cast the two men as Facebook friends, if not two leaders meeting.
"Caught up with President Ma Ying-jeou over tea this evening," Lee wrote. "Glad his meeting here went well. Hope this will lead to greater stability and prosperity for the region."
Before it's here, it's on the Bloomberg Terminal.
LEARN MORE