Copper Faces at Least Two More Years of Pain, Rio Estimates
By
Metal fell below $4,500 a ton for first time since 1999

Producer says is more optimistic on longer term demand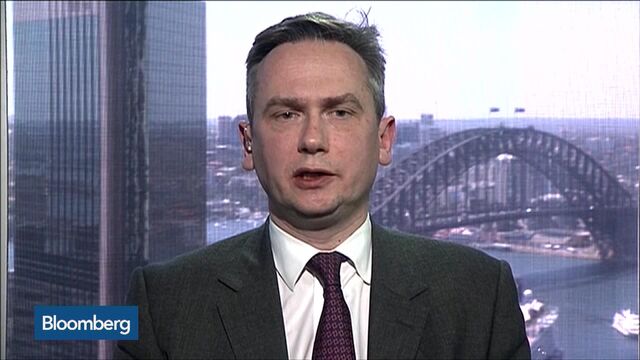 The copper market is facing two or three years more of pain, though the good news for the metal, which hit a six-year low this week, is that it will recover faster than other commodities, according to Rio Tinto Group.
Copper has tumbled 26 percent this year as China's faltering expansion curbs demand and with the dollar trading near its highest level since at least 2005, making commodities more expensive for buyers in other currencies.
Rio, the world's-second biggest miner, is becoming confident the market could move back into deficit by the end of 2017 or in 2018, Jean-Sebastien Jacques, chief executive officer for copper and coal, said Thursday in an interview in Sydney at the Bloomberg Address.
"The one commodity we expect to recover faster than others is likely to be copper," Jacques said. "In the next two or three years we can see the light at the end of the tunnel as far as copper is concerned."
China's slowest pace of economic growth in a quarter of a century is weighing on metals to energy prices and eroding profits for producers. The Bloomberg Commodity Index of returns on 22 raw material this month touched a 16-year low and is heading for the fifth straight annual loss, the longest slide on records dating to 1991.
Bear Cycle
Coal faces a longer path to a price revival, according to Jacques. "For coal it's a different horizon," he said in the interview. "It will take much more time for coal to recover."
Goldman Sachs Group Inc. says the bear cycle in copper has years to run, predicting rising global surpluses through 2019 and seeing prices at $4,500 a metric ton by the end of 2016, with the risk skewed to the downside. The metal touched a six-year low of $4,490 a ton on Monday.
With demand weak and cuts to output so far having failed to deliver a significant boost, it's likely copper will remain mired for longer than Jacques predicts, according to Fat Prophets analyst David Lennox. "The prices will probably lament for some time," he said by phone. "Probably longer than two years."
'Grim-to-Bleak'
Copper for delivery in three months rose 2.7 percent to $4,670 a ton on the London Metal Exchange at 5:14 p.m. in Sydney. Rio's Sydney-traded shares declined 1.4 percent to close at A$46.49. The outlook next year for copper is "grim-to-bleak," and the metal may need to fall as low as $3,800 to spur the cuts to supply that would help to balance markets, Ed Meir, an analyst at INTL FCStone Inc.
For coal prices, a recovery isn't certain at all and particularly for thermal coal, Fat Prophets Lennox said. The price for Newcastle coal, a benchmark in Asia, has fallen 14 percent this year.
While China will have a rate of growth that's slower than in the past, Rio still expects gross domestic product to rise 7 percent in 2015, Jacques said. President Xi Jinping said Nov. 3 that average annual growth should be no less than 6.5 percent in the next five years.
"We expect subdued prices to remain in the short term but we are optimistic about long term demand," Jacques said in his Bloomberg Address speech. "There is over capacity in many commodities due to investments over the last five or more years."

BlackRock Inc., the world's largest money manager, is seeing a slowdown in demand as the global economy slows, particularly commodity intensive economies like China, Russ Koesterich, global chief investment strategist, said Wednesday in a Bloomberg TV interview. Industrial metals and energy commodities are "significantly oversupplied" and it'll take time to bring supply and demand back in to balance, he said.
Rio, the sixth-largest copper producer, holds stakes in or operates mines in Utah to Mongolia and last month forecast full-year mined copper production of about 510,000 metric tons in 2015. Codelco, the world's top copper producer, is targeting annual output of 1.6 million to 1.7 million tons.
The producer would be open to acquiring new assets, though only if it's able to secure tier-one ranked operations, Jacques told Bloomberg Television's "Asia Edge" in an interview.