China to Probe Largest Brokerage for Alleged Rule Violations
Bloomberg News
Citic Securities says will cooperate, all operations normal

Firm's president among executives already under investigation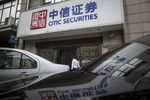 China's securities regulator will probe Citic Securities Co. for alleged rule violations in the latest move against the country's largest brokerage, where some top executives have already been placed under investigation.
The firm received a notice from the China Securities Regulatory Commission on Thursday saying it will be investigated because it allegedly violated regulations on the supervision and administration of securities firms, Citic said in a Shanghai stock exchange statement. The brokerage said it will fully cooperate with the probe and that all of its operations are normal.
President Cheng Boming is among seven Citic Securities executives named by Xinhua News Agency as being under investigation, part of a financial-industry crackdown as the government seeks to assign blame for the nation's summer stock-market rout. Chinese authorities have been discussing the need to punish Citic Securities for its role in the selloff, a person familiar with the matter said last week.

"We don't know yet whether the company will be affected. It's possible that some individuals may have to shoulder the blame," said Shen Meng, president of Beijing-based investment bank Chanson & Co. "It's not a surprise, especially after the mistake with the swap business data."
The Securities Association of China said this week that Citic Securities had over-reported equity-swap data by 1 trillion yuan ($157 billion) between April and September. Numbers were inflated for new swaps business and for terminations, the association said. The brokerage blamed a system upgrade for the incorrect numbers and said it had corrected the figures earlier this month.
Assisting Authorities
Separately, Guosen Securities Co. also said that it was being investigated by the CSRC for similar alleged rule violations and that it would cooperate with the regulator, according to a statement filed with Shenzhen's stock exchange.
The finance crackdown following the rout that dragged the Shanghai Composite Index down as much as 43 percent has intensified in recent weeks and ensnared a prominent hedge-fund manager and even a CSRC vice chairman.
At least 16 people have been arrested, are being investigated or have been taken away from their job duties to assist authorities, according to statements and announcements compiled by Bloomberg News.
Citic's President Cheng is accused of alleged insider trading and leaking inside information, Xinhua reported Sept. 15. No comment has been available from Cheng or the other Citic Securities executives. All the cases involve insider-trading allegations, according to Xinhua's reports.
— With assistance by Xiaoqing Pi, and Aipeng Soo
Before it's here, it's on the Bloomberg Terminal.
LEARN MORE